Studying for finals won't be the only thing on the minds of many Kansas University students this month.
The Kansas Board of Regents on Thursday will consider increasing housing costs at KU and the five other Regents universities.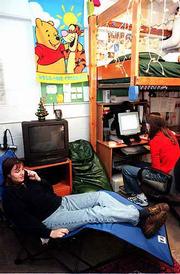 While the proposed increases at KU would vary, the standard double occupancy room with 19 meals per week would increase from $4,114 per year to $4,348. That's a $234 increase, or 5.7 percent the largest increase sought by any of the state's public universities.
If approved, the rates would take effect next fall for the approximately 5,100 KU students who live in university housing.
Diana Robertson, associate director of KU Student Housing, said the proposed increase is needed to cover inflation and skyrocketing energy costs.
In fact, energy costs are so volatile that KU may ask this spring for another increase, according to a memo to the Regents.
Another reason KU and other school officials gave for the proposed increase was that it was necessary to cover payments on bonds.
Robertson said that the proposal has been reviewed by several student committees, and that she hasn't yet heard any complaints.
Even with the increase, the cost of KU student housing would be below the Big 12 and national averages, university officials said.
On another front, KU officials are seeking an increase in the Regents Center Construction Fee from $10 to $15 per credit hour, a $2 per credit hour increase in off-campus fees, and a $3 increase in on-campus fees.
The schedule for the Kansas Board of Regents meeting this week at 700 S.W. Harrison, suite 1410, in Topeka:Wednesday11 a.m.: Council of Chief Academic Officers2 p.m.: Council of Faculty Senate Presidents4 p.m.: Commission for Higher Education Coordination5 p.m.: Students' Advisory CommitteeThursday8:30 a.m.: Board meeting
The Regents Center Construction Fee is charged for classes taken on or through the Regents Center on the Edwards campus in Overland Park.
The fee increase is needed, university officials say, to start preliminary plans for construction of a new building on the Edwards campus.
The off-campus fees are charged to students taking a class away from a university campus. For those taking undergraduate classes through KU, the fee would increase to $102 from $100. For those taking graduate courses, the fee would increase to $146 from $143.
Copyright 2018 The Lawrence Journal-World. All rights reserved. This material may not be published, broadcast, rewritten or redistributed. We strive to uphold our values for every story published.