Islamabad, Pakistan — Not content with stealing Nike's name, trademark pirates are using it to glorify America's No. 1 terrorist suspect.
T-shirts have shown up in Afghanistan and in neighboring Pakistan that feature the U.S. sportswear company's logo alongside a drawing of an AK-47 assault rifle and praise for Osama bin Laden, "The great mujahid (holy warrior) of Islam."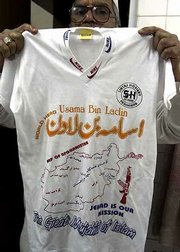 "Jihad is our mission," say the T-shirts. Jihad is commonly translated as "holy war."
"We find it highly offensive," said Kirk Stewart, vice president for corporate communications at Nike headquarters in Beaverton, Ore., after viewing a photo of one of the shirts.
The United States accuses bin Laden of masterminding the 1998 bombings of two U.S. embassies in East Africa that killed 224 people, including 12 U.S. diplomats. He is also a suspect in the October suicide bombing of a U.S. destroyer in Yemen that killed 17 U.S. sailors.
But in some parts of Pakistan's deeply conservative and tribal northwest, and in Afghanistan where bin Laden hides out, many admirers name their sons after him.
The T-shirts sell for 100 rupees about $2 in Pakistan. Also on sale for a few cents apiece are posters featuring a calendar and a picture of a helicopter with the slogan: "Look out United States, Osama is coming."
"The Osama shirts were ordered by someone from Afghanistan, whom we don't know," said Zarshad Khan, co-owner of Sirtaj Hosiery in Peshawar.
"We are not political people," he said.
Copyright 2018 The Associated Press. All rights reserved. This material may not be published, broadcast, rewritten or redistributed. We strive to uphold our values for every story published.