Northvale, N.J. — It's a bowling alley. But it's not a bowling alley. It's Stuckeybowl, formerly Country Club Bowling, a closed-down New Jersey bowling center that now serves as ground zero for NBC's comic drama "Ed."
In the front office, where Stuckeybowl owner Ed Stevens receives clients in his sideline as a lawyer, the series' cast and crew are clustered to shoot a scene with Ed and his visiting parents (guest stars Philip Bosco and Jane Summerhays).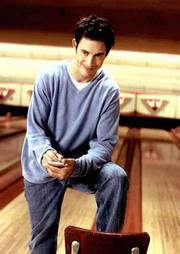 Meanwhile, observing from Stuckeybowl's refreshment area are the real-life parents of Tom Cavanagh, who plays Ed. They happen to be down from Canada visiting their son.
Thus do reality and make-believe commingle when the cameras roll for "Ed," an affable, even cuddly hour that Cavanagh likes to trumpet as "the best bowling-alley-romance-legal show on the air!"
In other words: Just another day in Stuckeyville, Ohio make that Northvale, N.J.
Stuckeyville, est. 2000
With their village charms, Northvale (population: 4,563) and sister hamlets like Montclair and Ridgewood, Westwood and Hillsdale cumulatively serve "Ed" as the face of mythic Stuckeyville, the hometown to which Ed (fired from his New York law firm and dumped by his wife) retreats to start a new life and to win Carol Vessey, the grown-up girl of his high-school dreams.
Carol is a teacher at Stuckeyville High, portrayed by Montclair High School a few miles away. "It's gorgeous!" says Julie Bowen, who plays Carol. "And the teachers are so nice. They offer you their opinions.
"Being out this far from everything from Los Angeles and from New York, too is incredibly helpful," says Bowen, who commutes the half-hour from her home in Manhattan. "You really feel the small-town atmosphere."
Striking it rich
With Stuckeybowl an essential element of "Ed," finding a suitable facility had been a make-or-break challenge for the producers. But as if waiting for them and its own version of stardom, Country Club Bowling here on Paris Avenue had stood empty for years when discovered by a location scout.
All the better to reiterate "Ed's" retro appeal, it boasted a decor of vinyl and paneling, an orange-and-aqua color scheme and Archie-and-Veronica vibes.
"We just cleaned it up a little," says unit production manager Dana Kuvnetzkoff.
Then they did something else: Chopped it in half, retaining 16 of the 36 lanes for Stuckeybowl while gutting the rest of the building for a soundstage.
There among other interior sets can be found the Stuckeyville courtroom in which Ed pleads his cases. It was reproduced from a courtroom in nearby Nutley. "It's a perfect replica," says Kuvnetzkoff, "down to the water stains in the ceiling."
Back in Stuckeybowl, Rick Ramsey is admiring what already may be the most famous bowling center in the world.
Director of tournaments for the Bowling Proprietors' Association of America in Arlington, Tex., he and his wife, Gayle, en route to Atlantic City, have stopped by to pay tribute to the show that's giving his sport new corny-cool flair.
His membership loves "Ed," Ramsey says. Bowling centers schedule "Ed" viewing parties and award free games to bowlers named Ed.
Cavanagh says he's been bowling since he was a kid growing up in southern Quebec. "Now, on days when we shoot bowling scenes," he says, "we can bowl a couple of frames during lunch hour."
---
http://www.nbci.com/LMOID/bb/ fd/0,946,-0-3259,00.html
http://www.bpaa.com/BPAAframe.htm
Copyright 2018 The Associated Press. All rights reserved. This material may not be published, broadcast, rewritten or redistributed. We strive to uphold our values for every story published.