Cincinnati — Setting the stage for a possible Supreme Court ruling on church and state, a federal appeals court Monday declared Cleveland's school-voucher program unconstitutional because it uses tax money to send students to religious schools.
In a 2-1 ruling, the 6th U.S. Circuit Court of Appeals said the program appears designed to favor religious schools and thereby violates the constitutional separation of church and state.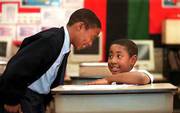 "To approve this program would approve the actual diversion of government aid to religious institutions in endorsement of religious education, something 'in tension' with the precedents of the Supreme Court," the panel said.
Both sides predicted the dispute will go to the high court, which has passed up opportunities to consider challenges to the constitutionality of providing public aid to families whose children attend religious or other private schools.
The high court last year let stand a voucher program that includes religious schools in Milwaukee, and did not take up a challenge to a 1999 federal appeals court ruling allowing Maine to exclude religious schools from a state program subsidizing children attending private schools.
Clint Bolick of the Institute for Justice, a Washington organization that argued in support of the voucher program, said the Supreme Court should hear the case soon to protect the Cleveland participants.
"This is the test case that everyone's been waiting for," he said. "I can't imagine that the Supreme Court would allow 4,000 kids to be just yanked out of the only good schools they've ever attended."
Atty. Gen. Betty Montgomery said no immediate decision has been made on an appeal. She said the Ohio Supreme Court has upheld the state's argument that parents have a choice in how to use the vouchers and therefore there is no "constitutional entanglement."
The ruling did not halt the program.
Copyright 2018 The Associated Press. All rights reserved. This material may not be published, broadcast, rewritten or redistributed. We strive to uphold our values for every story published.