Attorney Shelley Bock used his Spanish-speaking skills in court nearly every day for the last two weeks.
Lawrence Police Sgt. Susan Hadl, who has a bachelor's degree in Spanish, only had to use those skills on the job a few times during the first 15 years of her career. Now, she says, it's a regular occurrence.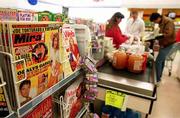 And Lawrence-Douglas County Fire & Medical, which carries Spanish-language flash cards on its ambulances, is considering using a phone system that would provide automatic, on-scene translations.
Nobody knows the statistics yet, but there's growing evidence that the number of Spanish-speaking residents in Douglas County is on the rise.
Figures from the 1990 U.S. Census indicate there were 1,575 people in Lawrence whose families listed Spanish as their primary language at home. Of that number, 182 people rated their English-speaking ability as "not well" or "not at all." The 2000 Census data is not yet available.
"I think we follow the national trend, which is we're seeing a lot of different cultures," said Gayle Martin, communications director for the city of Lawrence.
But the Spanish-speaking population hasn't grown enough to affect city policies, Martin said. And some agencies in the city say they haven't noticed any increase.
'It's not stopping'
Bock is seeing something different.
He became fluent in Spanish during his Peace Corps days in Costa Rica. Douglas County District Court cases with Spanish-speaking defendants usually are referred to him.
"When I first started practice in the legal aid office (in 1979), you might see one Spanish-speaking person every six months nothing in the magnitude we've seen in these last two, three years," he said.
"I picked up four cases this week," he said Thursday. "I spoke Spanish every day this week and every day last week."
Most of the clients, he said, are doing labor-intensive work in Douglas County and the surrounding areas. They come from Mexico, Venezuela, El Salvador, Panama, Puerto Rico and even Texas.
Douglas County's Spanish-speaking population, he said, "is continuing to grow."
Hadl agrees. She said her Spanish skills grew rusty during the first 15 years of her career.
"It was a fairly rare request," she said. "Now it's becoming more commonplace. In the last couple of years, it happens every couple of weeks that we are coming into situations where someone involved speaks Spanish."
She said Lawrence Police officers are now being trained to use "survival Spanish" a few key phrases in emergency situations on the streets.
Matters of life and death
Fire & Medical ambulances carry flash cards with similar phrases, but Capt. Scott Dieker said he gave up using them a few years back.
"I can ask the questions just fine," he said. "I just can't understand the answers."
Dieker said he became concerned about the situation six weeks ago when he took a Spanish-speaking man to Lawrence Memorial Hospital, and none of the paramedics or hospital staff could translate.
"We can all do better than that," he said.
On Friday he met with senior fire officials to recommend using Language Line Services, a company that provides translators in more than 100 languages. In an emergency, he said, firefighters and paramedics would be able to set up a three-way call with a translator to get quick information.
"I'd sure hate to withhold medication from someone who needs it, because you can't understand what they're saying," Fire & Medical Acting Deputy Chief Brian Lawrence said.
How easy is it to live in Lawrence, if one speaks only Spanish?
"It's fairly easy for things like getting a drivers license. You can take your test in Spanish," said Aurora Portela Villanueva, a native Spanish speaker. "It's more difficult if you try to go to a doctor's office or the hospital and communicate at that level. Shopping is usually easy. If you're there to spend your money, people are there to help you."
Copyright 2018 The Lawrence Journal-World. All rights reserved. This material may not be published, broadcast, rewritten or redistributed. We strive to uphold our values for every story published.