Indianapolis — Peyton Manning, Edgerrin James and Marvin Harrison?
Who needs them when Paul Shields, Jeff Burris, Bernard Holsey and Mustafah Muhammed are around to keep the Indianapolis Colts in the AFC playoff race?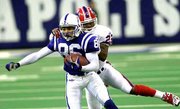 Shields blocked a punt to set up one third-quarter score and Burris sacked Rob Johnson to force a fumble that Holsey returned 48 yards for another touchdown as the Colts got just 237 yards of offense but beat the Buffalo Bills, 44-20, Monday night.
Muhammed added a 40-yard interception return for a score in the fourth quarter as the Colts scored 35 points in the second half, 21 by the defense and special teams.
"Anytime you see a defensive player running with the ball, it's a great feeling on offense," said Manning, who was 13-of-24 for a career-low 132 yards. "When the defense scores, it's a huge lift for the whole team."
The win kept Indianapolis (8-6) alive for an AFC playoff berth and eliminated the Bills (7-7), although the Colts still need help to make it. Indianapolis' victory also enabled Denver to qualify for the postseason, joining Oakland, Tennessee and Baltimore with two spots in the conference still open.
This was clearly a victory for the Indianapolis defense, which for two years has played the supporting cast to Manning, Harrison and James.
This time, the offense supported the defense.
The defense sacked Johnson and Doug Flutie nine times after getting just six sacks in its previous five games. The two turnovers for touchdowns were among three for the game for a team that entered the game with just 15 takeaways, last in the NFL.
"You've got to make plays. That's been our problem all season. We haven't been able to take the ball away," Colts coach Jim Mora said. "We did that tonight. Of all the games this year, this was the most opportunities we've had to make plays and we made them."
"I got a little impatient," said Johnson, who was 12-of-22 for 188 yards and two interceptions. "I tried to make some plays. I got frustrated and I made some bad decisions."
Two of the heroes were making their first starts Brad Scioli, who had two sacks, in place of Holsey, and Muhammed in place of Tyrone Poole.
The Colts led 9-6 at halftime after an exchange of field goals by Mike Vanderjagt and Buffalo's Steve Christie.
But Indianapolis came out energized in the second half, especially on defense.
It stopped the Bills on three plays on the opening series, then Shields, who started four games at fullback last year but had been cut and re-signed twice this season, broke up the middle and blocked Chris Mohr's punt. Mohr juggled the ball and had to re-start.
Copyright 2018 The Associated Press. All rights reserved. This material may not be published, broadcast, rewritten or redistributed. We strive to uphold our values for every story published.