Chicago — He won't call it a slump.
Nor will he say he's stuck in a funk.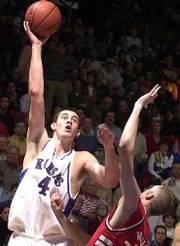 Kansas forward Nick Collison will only acknowledge he's not on top of his game heading into tonight's nonconference contest between Kansas and DePaul.
Tipoff is 8:05 p.m. at the United Center, where the Jayhawks have dropped three straight games over the past two seasons.
"I am not playing horribly, but not playing as well as I want to play," says the 6-foot-9, 250-pound Collison, who's averaging 10.9 points and 5.8 rebounds. "I am struggling a little bit offensively. I don't know why. It's nothing major. I think my defense has been solid. I am playing hard. I will always do that.
"Offensively I am doing less and am not feeling that comfortable out there for whatever reason."
Some say Collison has been off his game since he became the first player off the bench.
In his three starts against St. John's, North Dakota and Boise State he averaged 12.7 points on 64.3 percent shooting with 7.3 rebounds. Coming off the bench the last four games and in KU's season-opener, he has averaged 9.8 points on 48.6 percent shooting with 4.8 boards.
"No," he says simply, asked if he minds coming off the bench with Drew Gooden getting the starting nod. "I'd like to start, but I am playing about as many minutes as I would anyway.
"I don't care at all. Coming off the bench I get less tired. That just doesn't matter. We have really good chemistry this year and we're not going to do anything to screw that up."
"I am not playing horribly, but not playing as well as I want to play. I am struggling a little bit offensively. I don't know why. It's nothing major."
KU forward Nick Collison
The unselfish Collison has set high standards for himself. He's talking about not playing up to par, despite the fact he's hitting 55.6 percent of his shots.
"Sometimes I get caught down there, trying to do too much," he said of the couple of instances where he has stepped on the end line while making a move down low.
He has 22 turnovers against 15 assists.
"This year I've been trying to concentrate on just getting real low," Collison added. "I actually feel like I'm doing less offensively."
It won't be easy for Collison to bust loose tonight.
DePaul (4-3) starts three solid big men in 6-7 Bobby Simmons (16.7 ppg, 9.3 rpg.), 6-9 Lance Williams (14.7, 7.0) and 6-7 Andre Brown (6.9, 4.7).
"Simmons is versatile. He's big and can play the perimeter. He plays hard. He's strong. He can do a little of everything," Collison said of his summertime teammate on USA Basketball's World Championships for Young Men Qualifying Team.
Tonight, the Jayhawks could counter with three big men, especially with Luke Axtell listed as questionable after re-spraining his left ankle at practice on Monday. It's possible Collison, 6-10 Gooden and 7-1 Eric Chenowith could start, along with Jeff Boschee and Kirk Hinrich.
"It's tough because Drew has just started to play the three (small forward)," Collison said of Gooden. "He doesn't know all the sets. DePaul has some big kids, some tough kids. We'll have to play well to beat them at their place and without Kenny."
Williams says the KU big men will have to play well for the Jayhawks to stand a chance.
Wake Forest outrebounded KU, 43-26, in last Thursday's 31-point rout of KU in Winston-Salem, N.C.
"Wake Forest's front line is not as imposing as DePaul's from a size standpoint and experience standpoint," Williams said. "We got outrebounded 43-26 by Wake Forest. We could get outrebounded 100-4 against DePaul."
The Jayhawks are hoping to atone tonight.
"Everybody has just got a bad taste in their mouth right now," KU point guard Kirk Hinrich said. "Everybody wants to get out there and get rid of it so we can put it behind us.
"Everybody is upset. I'm upset, coach is upset, all the players are upset with everything. We all got embarrassed (Thursday). It shouldn't happen like that."
DePaul has beaten Lewis, Florida State, Alaska Anchorage and Chicago State and lost to Syracuse (92-84), Missouri (99-84) and Florida (83-76).
"DePaul is very good," Williams said. "Playing them at their place is not going to be easy. We could come out and play very well and still lose. But I want us to play well."
---
MORE: www.kusport.com
Copyright 2018 The Lawrence Journal-World. All rights reserved. This material may not be published, broadcast, rewritten or redistributed. We strive to uphold our values for every story published.