Washington — President Clinton lit the national Christmas tree for the last time Monday and, on the eve of his trip to Northern Ireland, wished for peace for that region.
"I hope we can finish the business of peace there and help America to give a gift to the rest of the world," Clinton said before lighting the national tree. The Colorado blue spruce, transplanted in 1973 from York, Pa., was decorated with 125,000 lights, accents of gold garland and large golden balls, with red ribbons.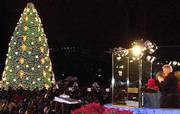 After lighting the tree, Clinton left Washington for his third visit to Ireland and Northern Ireland, where he will spend the next few days getting a firsthand update on the troubled peace program he helped negotiate.
This was the eighth year Clinton lighted the national Christmas tree and attended the accompanying Pageant of Peace.
Several thousand people crowded around the Ellipse just south of the White House to witness the 77th consecutive lighting of the national Christmas tree and sing holiday carols.
Clinton and his family sat behind bulletproof glass during the outdoor event.
Copyright 2018 The Associated Press. All rights reserved. This material may not be published, broadcast, rewritten or redistributed. We strive to uphold our values for every story published.