CHAPEL HILL, N.C. — John Bunting flashed his Super Bowl ring when he was introduced as football coach at North Carolina. The former Tar Heels linebacker had another prized possession with him, too.
"This ring right here is just as important to me the 1971 ACC championship ring that I won with a bunch of hardworking guys who had one common goal," Bunting said, pulling the hardware out of his suit jacket. "That's what we're looking to get done here. If my fingers weren't so fat, I would wear it."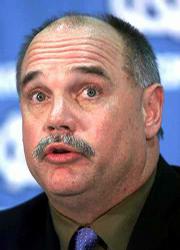 The former New Orleans Saints assistant takes over a program that returns 16 starters from a 6-5 team, but has won only two Atlantic Coast Conference titles since Bunting was the team's co-captain in the early '70s.
Bunting, who resigned as linebackers coach with the Saints, replaces Carl Torbush, who was fired Nov. 20 after a three-year record of 17-18.
Bunting was given a five-year contract with a base salary of $160,000, athletic director Dick Baddour said. Bunting's total package is expected to be around $600,000.
Baddour said Bunting was endorsed by veteran NFL coach Dick Vermeil and former Philadelphia Eagles teammate Ron Jaworski, among others.
"The more people I talked with talked about his coaching ability, his leadership ability and his ability to motivate young people to play," Baddour said. "He knows how to lead. He will not accept losing."
Bunting met with the team Monday afternoon. Most were impressed with his intensity.
"He told us we were going to win and have fun doing it," junior cornerback Errol Hood said. "That's the best thing I've heard in a while.
"He's serious," Hood added. "He walked in and had that look in his eye like, 'I'm determined to turn this program around."'
Bunting said he would call North Carolina's 12 recruits Monday night and begin evaluating the team's assistant coaches to see which ones would be retained.
"It was an easy choice for me but by no means will this be an easy task," said Bunting, who has never been a Division I-A coach.
Bunting was hired in February by the Saints, who are trying to make the NFL playoffs.
"It's a big loss to us, but it's a dream job for John," Saints general manager Randy Mueller said. "We're all excited for him,"
With Bunting leaving the Saints, Mueller said defensive assistant Winston Moss and defensive coordinator Ron Zook will be given more responsibilities. Saints coach Jim Haslett will help coach the team's linebackers, Mueller said.
The 50-year-old Bunting, who played at UNC from 1968-71, was in the first year of a two-year contract with the Saints. He was interviewed twice by North Carolina officials before being hired. He had a two-hour visit last Monday night with Chancellor James Moeser in Chapel Hill.
Virginia Tech's Frank Beamer turned down an offer to coach the Tar Heels a week after Torbush was fired. Over the weekend, former Kansas City Chiefs coach Marty Schottenheimer withdrew his name from consideration.
The Tar Heels also reportedly talked with Gary Darnell of Western Michigan and Florida State offensive coordinator Mark Richt about the coaching vacancy, but Bunting had the support of many former North Carolina players.
Bunting has never been a Division I-A head coach. He was the coach of Division III Rowan from 1987-92, leading them to the playoffs the final two years.
Bunting then left to become an assistant for the Chiefs and later St. Louis. He was the co-defensive coordinator for the Super Bowl champion Rams last season.
The Tar Heels were a Top 10 program in 1996 and '97, going a combined 21-3 before Mack Brown left for Texas. Torbush was promoted from defensive coordinator one day after Georgia's Jim Donnan turned the job down.
Torbush had seasons of 7-5, 3-8 and 6-5 before being fired two days after the season. Torbush had two years left on his five-year contract.
Copyright 2018 The Associated Press. All rights reserved. This material may not be published, broadcast, rewritten or redistributed. We strive to uphold our values for every story published.