Kansas City, Mo — Kansas City civic and government leaders say they are working together to find a way to expand Kemper Arena to make it more attractive for the Big 12 conference's basketball tournaments.
One preliminary proposal involves spending as much as $25 million to build more concession stands, locker rooms, wider public corridors and, possibly, corporate suites.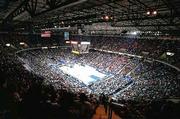 City leaders are pushing the proposal with new enthusiasm, partly in response to the Big 12's decision to move the men's and women's conference tournaments to Dallas in 2003 and 2004.
"There seems to be more of a civic alignment on the issue," said Kevin Gray, president of the Kansas City Sports Commission.
Bill Hall, chairman of the Sports Commission and president of the Hall Family Foundation, said: "We're all trying to get ourselves organized. We're in the information-gathering stage."
Big 12 Commissioner Kevin Weiberg said the conference was satisfied with Kemper's seating and playing floor, but would like to see improvements in the concession areas, locker rooms and concourses.
Kemper Arena has been the site of conference's postseason tournament since the Big Eight conference started it in 1977.
In late 1999, Big 12 administrators announced that the men's and women's basketball tournaments would be in Kansas City in 2000, 2001, 2002 and 2005. In 2003 and 2004, the events will be held in the new American Airlines Arena and Reunion Arena in Dallas.
"We must respond to the Big 12 in a reasonable time," said Joe Serviss, chief of staff to Kansas City, Mo., Mayor Kay Barnes.
Although the city doesn't have a deadline, Serviss said additions to Kemper needed to be under way in two to three years to be completed in time for future tournaments.
Bill Haw, president and chief executive of National Farms Inc., which owns property north of Kemper Arena, said the Big 12's administrators want more parking and an entertainment district near the arena.
Earlier this year, the city announced plans to construct a $20 million, 1,400-space parking garage on land owned by National Farms. The garage, which was provided as an incentive to lure Butler Manufacturing Co.'s headquarters to the area, will be available to people attending events at Kemper.
National Farms and city officials are discussing developing a park on the eastern bank of the Kansas River. That land is in Kansas City, Kan., and presents a chance for the two cities to work together on the development, Serviss said.
Barnes said it was unlikely that Kansas City leaders would seek an extension of the bistate tax to pay for expanding Kemper Arena. The one-eighth-cent bistate sales tax, which helped pay for renovating Union Station, is set to expire in spring 2002.
Barnes said that expanding Kemper would not rule out building an arena downtown, but it does force city leaders to look at how such a facility could be linked to existing buildings, such as Bartle Hall.
"I think people rush to judgment and force an either-or perspective," Barnes said. "I think we've got to be willing to look at all options."
Copyright 2017 The Associated Press. All rights reserved. This material may not be published, broadcast, rewritten or redistributed. We strive to uphold our values for every story published.