Grass, especially switchgrass, which Kansas has aplenty, could boost the economy and help clean the environment.
Lawrence architect Joe King, a longtime advocate of alternative energy sources, is leading a study on the viability of switchgrass as a source of biomass energy.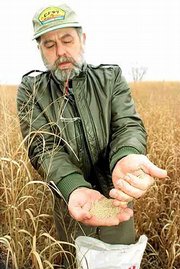 "This winter is going to be a real shock for people," King said, noting the increase in home heating costs. "It's a wake-up call. We need to seriously look at biomass. Switchgrass appears to be one of the more promising paths."
Biomass is organic material, such as wood, crops and animal wastes, that can be used to generate electricity, heat or liquid fuels.
It is the most underutilized renewable source in the United States, according to the Biomass Energy Alliance. It could replace 50 percent of the nation's oil imports and supply 20 percent of the country's energy needs, proponents say.
Switchgrass is a long-stemmed grass that grows well in the eastern half of Kansas, especially in the Lawrence area.
In Kansas, King sees hundreds of thousands of acres, currently idled under a federal crop conservation program, as potential areas to grow switchgrass.
Use of this land to produce grasses that could become part of the energy mix would boost economic development in rural areas of the state. It would benefit national security by decreasing reliance on oil imports, he said.
On the environmental front, the production of energy crops could absorb greenhouse gases, stabilize soil, reduce erosion and thus help keep waterways cleaner, he said.
So what's the holdup?
The cost of producing biomass energy still exceeds the cost of using fossil fuels, such as coal, he said.
But that cost differential may be shrinking, especially when taking into account the environmental cost of using fossil fuels.
Last week, King, several state officials and Jim Hockett, director of generation support services for Western Resources, observed a test use of switchgrass at a coal-fired power plant in Ottumwa, Iowa, which is in the southeastern part of the state.
Officials there fed baled switchgrass into the plant, where it was pulverized and used to help generate power.
The test showed it can be done, King said.
The Iowa project is being conducted by numerous federal and state agencies and some private businesses, including John Deere Co.
The goal of the effort in Iowa is to harvest enough switchgrass to generate 5 percent, or 35 megawatts, of the power plant's capacity.
Hockett, the Western Resource official, said Kansas' major utility will keep an eye on the project.
"We're going to keep ourselves knowledgeable on how the project is progressing to see if that might have some use here in Kansas down the road in the future. Right now, it's too preliminary," he said.
Copyright 2018 The Lawrence Journal-World. All rights reserved. This material may not be published, broadcast, rewritten or redistributed. We strive to uphold our values for every story published.