An advocate for women with breast cancer, Suzie Taylor-Meadows is slowly getting used to the phone calls from cancer survivors who've lost their insurance and cannot afford the medicines that prevent the disease's return.
"I get those calls routinely," said Taylor-Meadows, who's chairwoman of Breast Cancer Action, a grass-roots support group based in Lawrence.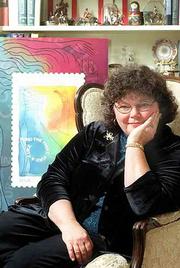 "They don't know where to turn. About all we can do is try and help them piece something together," she said. "Unfortunately, this is a crack in the system that a lot of women fall through."
That may soon change.
President Clinton recently signed into law a bill allowing states to expand their Medicaid programs to cover treatment of breast and cervical cancers.
The new law lets states extend the coverage to women whose incomes are within 250 percent of the federal poverty guideline, which for a Kansas woman in a typical three-person household is $2,947 a month.
At 250 percent of the poverty guideline, most low-income, uninsured workers would be covered.
"This will make a huge difference in the lives of hundreds of women," Taylor-Meadows said.
Today, Medicaid coverage in Kansas is limited to disabled adults, children in poor families and nursing home residents who've outlived their resources. It's not known how much the expanded coverage would cost.
"At this point, we have no idea," said Bob Day, who oversees Medicaid operations within the state Department of Social and Rehabilitation Services.
But a Congressional Budget Office report said expanding treatment coverage to women affected by the 250 percent guideline would likely cost the state between $900,000 and $1 million yearly.
In Kansas, the state pays 40 percent of its Medicaid bill; the remaining 60 percent comes from the federal government.
State lawmakers expect to spend $520 million on Medicaid-financed services in Fiscal 2001, which ends June 30.
Under the new law, the federal government would pick up 72 percent of the costs of treating breast and cervical cancers. Kansas would be responsible for 28 percent.
The new law does not require states to extend the coverage to the full 250 percent of the poverty guideline. If they like, they're free to adopt a lower eligibility threshold.
"We'll have to look at the fiscal impact of this, but I would certainly hope we'd go the full 250 percent," said Sen. Sandy Praeger, R-Lawrence, chairwoman of the Senate Public Health and Welfare Committee.
"I don't see this being a 'budget breaker,'" she said. "Before I promise anything I want to see the numbers and I want to make sure this won't cause an erosion in coverage someplace else. But, yes, this certainly looks like a wonderful opportunity for the uninsured women of Kansas."
Lawmakers are expected to begin discussing the Medicaid budget next month.
According to state epidemiology reports, about 1,600 women in Kansas are diagnosed with breast cancer each year; another 100 are diagnosed with cervical cancer.
It's not yet known how many of these women's household incomes fall within 250 percent of the poverty guideline.
Joy Ginsburg, a regional advocacy manager with the American Cancer Society, said first-year treatments for breast cancer cost about $17,000. Follow-up care and medications, she said, cost another $6,000 a year.
Treatment for cervical cancer costs considerably less, she said.
"We're not talking about a huge amount of money here," Ginsburg said. "But if you're in this situation and you're uninsured, it's a huge amount."
The new law comes with a few strings attached:
Would-be participants will not be allowed to drop their insurance to make themselves eligible for Medicaid.
With few exceptions, participants must be between 50 and 65 years old.
Eligibility will be limited to women who've been screened through the state Department of Health and Environment's federally funded Free To Know program.
Since 1993, Free To Know has provided free cancer screenings to low-income women.
"One of the cruel ironies in all this is that while the screenings are free, the treatment is not," said Jennifer Levine, communications director for the National Breast Cancer Coalition in Washington, D.C.
"The Breast and Cervical Cancer Treatment Act corrects that," she said.
Copyright 2018 The Lawrence Journal-World. All rights reserved. This material may not be published, broadcast, rewritten or redistributed. We strive to uphold our values for every story published.