Seoul, South Korea — U.S. and South Korean officials tried on Wednesday to resolve widely differing views on how many refugees were killed by U.S. troops at the Korean hamlet of No Gun Ri and whether the GIs acted on orders.
The two sides discussed a proposed statement of "mutual understanding" to summarize the results of separate yearlong investigations of the killings during the early days of the Korean War.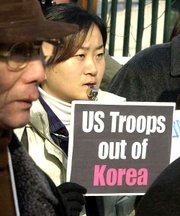 The inquiries were launched after The Associated Press, citing ex-GIs and Korean survivors, reported in September 1999 that U.S. forces strafed and later shot a large number of refugees at a railroad trestle in late July 1950.
Sources close to the U.S. investigation said the talks would be crucial in determining when the findings are released this month or early next year. U.S. Army investigators have concluded American soldiers killed a substantial number of Korean refugees near No Gun Ri, but found no definitive evidence they fired under orders from superiors, a senior Pentagon official said on condition of anonymity.
"It's clear: We've found that American soldiers killed some number of South Korean civilians at No Gun Ri," the official said in Washington.
It marks the Army's first acknowledgment of U.S. soldiers' involvement in the killings at No Gun Ri. Previously, the Army denied a U.S. role. The Pentagon official also said the two sides disagree on how many civilians died.
Former Rep. Pete McCloskey, a California Republican and a member of a civilian advisory panel to the Pentagon inquiry, confirmed that the Army's draft report says there was no evidence of orders to fire on refugees. The former U.S. Marine officer said he disagreed with that conclusion and urged a revision.
"We have seen statements from one officer and nine enlisted men at No Gun Ri who referred to those orders," he said. "Unless the Army has information we have not yet seen, I can't understand how they reached their conclusion."
Copyright 2017 The Associated Press. All rights reserved. This material may not be published, broadcast, rewritten or redistributed. We strive to uphold our values for every story published.