Free State High wrestler Ian Bsaid he was pleased by the raucous crowd that attended the matches Wednesday night, even though a few folks told him beforehand they didn't realize what he did wasn't quite like the WWF.
There were no eye-gouges, no turnbuckles and no outrageous costumes, but Bs quick pin in the heavyweight division was more than enough to spark the crowd and salvage a split of the Firebirds' home double-dual.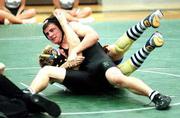 After losing to Olathe South, 38-33, on the final match, the Firebirds rebounded to beat Topeka West, 40-32.
"That was the best crowd we've had all year," said B "It was noisy in here, and that really helps a lot."
Topeka West built a 32-10 lead before Free State's Nick McGovern changed the flow of the match for good at 160 pounds. His pin 51 seconds into his match set the tone for quick Firebirds victories.
"Wrestling's all about building off each other," McGovern said. "If one guy can get it going, the others will follow."
McGovern was disappointed at losing the first match, and was a little shocked that Topeka West, which defeated South 42-31 in the other match, built such a big, early lead.
"Topeka wrestled really well," McGovern said. "But our guys were able to come up with some big wins when we needed them."
McGovern's "guys" were Kyle Frank (171 pounds, pin in 54 seconds) Justin Stevens (215 pounds, 25 seconds) and B whose 19-second fall in the night's final match secured the team victory.
As Bpinned Hughes, the whistle blew, the crowd went berserk and Bscreamed and flexed his muscles in celebration.
"We needed a big win there," Free State coach Darrell Andrew said. "Ian came though big-time for us."
Bis no stranger to wrestling big at the heavyweight level. He wrestled heavyweight last year because another Free State wrestler was so successful at the 215-pound class. Bweighed 190 pounds last year, putting him at a major disadvantage in the heavyweight class. This year, he weighs 215 and is at his proper weight.
"I'm more comfortable where I am now," B "But we needed the win, so I knew I had to go in there and get it."
Olathe South 38, Free State 33
103 pounds open. 112 Paul Dyer, FS, pinned Chino Elsrode. 119 Bryan Moersohn, OS, pinned Roman Rodriguez. 125 Kyle Case, FS, pinned Ryan Chapman. 130 Anthony White, FS, pinned Matt Stealey. 135 Jeff Mortenson, OS, def. LeRoy Goodman, 18-8. 140 Josh Mills, OS, pinned Colin Hosek. 145 Stephen Kirby-Hill, OS, def. Brenton Bartz, 16-1. 152 Jason Curbow, OS, pinned Ian Rombough. 160 Nick McGovern, FS, pinned Jeff Caraway. 171 Kyle Frank, FS, def. Paul Shipley 8-2. 189 Justin Dyer, OS, def. Justin Stevens, 17-1. 215 Ian B FS, pinned Billy Sybesma. 275 Devin Rose, OS, pinned Grant Steinbach.
Free State 40, Topeka West 32
103 open. 112 Paul Dyer, FS, won by forfeit. 119 Jeremy Wallentine, TW, pinned Roman Rodriguez. 125 Ryan McGuire, TW, def. Kyle Case, 17-9. 130 Darion Terry, TW, def. Anthony White, 12-1. 135 Iyare Obazee, TW, pinned LeRoy Goodman. 140 Matt Ruhnke, TW, pinned Colin Hosek. 145 Brenton Bartz, FS, def. Brett Weir 10-1. 152 Chris Thompson, TW, pinned Ian Rombough. 160 Nick McGovern, FS, pinned Brandon Lewis. 171 Kyle Frank, FS, pinned Ike Krijaven. 189 Joe Aber, FS, won by default. 215 Justin Steven, FS, pinned Shawn Hughes. 275 Ian B FS, pinned J.P. Price.
Copyright 2018 The Lawrence Journal-World. All rights reserved. This material may not be published, broadcast, rewritten or redistributed. We strive to uphold our values for every story published.