LaFrentz scores 25 as Denver beats Philly
New York Much to Jeff Van Gundy's dismay, folks are calling the new lineup the "Big Backcourt."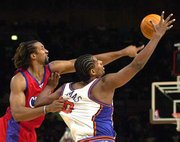 Much to his delight, it's working.
Glen Rice scored 21 points and Latrell Sprewell and Allan Houston added 19 apiece Monday night as the New York Knicks had their highest-scoring game and largest margin of victory this season in a 106-78 win over the Los Angeles Clippers.
The Knicks shot 56 percent, led by 19 at halftime and turned it into a rout early in the third to improve to 4-1 since going to the "Big Backcourt" starting lineup of Rice, Sprewell and Houston.
"I hate that moniker. I hate it. I am so sick of that," Van Gundy said. "I think, at times, when we are forceful and energetic on offense, it's been good."
Kurt Thomas shot 7-for-8 from the field and added 14 points, and Chris Childs had a season-high 11 assists as the Knicks avenged a four-point loss to the Clippers three weeks ago.
Rice has led the Knicks in scoring all three times they have won by at least 25 points.
Van Gundy said before the game that the Clippers would be good enough to contend for a playoff spot if they were in the East, but it sure didn't look that way. With Los Angeles playing lethargic defense and repeatedly getting beat inside, the Knicks took over late in the first quarter and didn't let up until opening a 34-point lead early in the fourth.
"It allows three very good perimeter players to be in at the same time, and we can all play inside and out," Houston said of the new starting backcourt. "To me, when you have the three of us in you aren't going to find three guys capable of guarding us."
Van Gundy went to the oversized backcourt with no true point guard after Charlie Ward went down with a knee injury. Despite their suspect ballhandling skills and lack of defensive quickness, the threesome has meshed well.
"In the games we've gone out and executed the offense, we've proven to be a very dangerous team," Rice said.
Childs checked in with the Knicks leading 25-20 and had five assists over the next 12 minutes as the Knicks used a 32-13 run to open a 24-point lead.
"For five games after the lineup switch I was paying too much attention to things I couldn't control, like Jeff's decision," Childs said.
Nuggets 105, 76ers 98
Denver Former Kansas forward Raef LaFrentz had 25 points and 14 rebounds and Antonio McDyess added 24 and 11. Voshon Lenard added 19 points as the Nuggets became the only team to score 100 points against Philadelphia in 17 games this season.
Allen Iverson had 37 points and nine rebounds for the Sixers, who lost for just the third time this season. Theo Ratliff added 14 points.
Denver led 99-90 on a basket by Nick Van Exel with 3:42 remaining before Philadelphia scored eight straight points to come within one with 1:41 to play. But Iverson missed a layup, pressured by McDyess, and Van Exel hit an easy layup to give the Nuggets a three-point lead. Van Exel put the game away hitting all four free throws while the 76ers missed four shots in the final minute.
Van Exel, who had only three points in the first half keyed a 19-10 run in the first seven minutes after halftime to give the Nuggets a 73-64 lead.
Iverson didn't get his first point of the quarter until 4:26 remained with two free throws. The Sixers trailed 85-78 when Aaron McKie closed the quarter with a 3-pointer.
Copyright 2018 The Associated Press. All rights reserved. This material may not be published, broadcast, rewritten or redistributed. We strive to uphold our values for every story published.