His $100 million team a near bust, Dan Snyder's trigger finger went from itchy to twitchy Monday, with the results-now owner dismissing Norv Turner as the Washington Redskins head coach, a move that was obvious once Eddie Murray's late field goal try petered out against the Giants on Sunday.
Passing-game coordinator Terry Robiskie, 46, was handed the interim job as the NFL's third black coach, joining Dennis Green and Tony Dungy. His odds on remaining the head man are not great, given Snyder's likely appetite for a big-name coach. Pundits have already bandied about the name of Bill Parcells as a potential target once the final three games are played, although the idea of Parcells working for a high-profile owner is preposterous.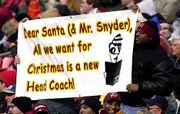 Snyder added a curious element by bringing on longtime college coach Pepper Rodgers as vice president of football operations after almost giving him the coaching job.
Turner, the last head coach hired by former owner Jack Kent Cooke in 1994, left Washington with a 49-59-1 record, including two final defeats by a combined five points.
"It really hit me (Sunday) night, watching highlights of Philadelphia and Tennessee . . . when (the Titans') Al Del Greco hit a (50)-yard field goal to win the game," an emotional Turner said, pausing briefly with reporters as he left Redskins Park Monday morning. "The difference between winning and losing in this league isn't very big."
Turner, who believed he would be fired at the end of the season if the Skins' payroll didn't produce a Super Bowl, committed the sin of leaving quarterback Brad Johnson in too long against the Giants. Jeff George, inserted in the fourth quarter (he'll start for Robiskie in Dallas Sunday), nearly rallied the Redskins to a victory. But a replay reversal of a critical pass completion on the Skins' final drive and Murray's subsequent miss from 49 yards sealed Turner's fate.
All anyone had to see was Snyder turning his back in the owner's box. He then left Turner waiting for a meeting that never came after first getting word to the coach to stay on the premises.
"We all know that at some point, you're going to move on," Turner said, saying he was "a lot better" for his seven "unbelievable" years with the Skins. Snyder might argue the corollary of that theory. At least now he can put his total stamp on the team.
Monday, he stood at Robiskie's side at the press conference in full support and echoing the optimism of his new coach.
"Quite simply, we are not out of the playoff race," said Snyder of a 7-6 team that is currently eighth in the NFC, with games left against the Cowboys, Steelers and Cardinals.
Robiskie, meanwhile, oozed a can-do attitude, calling this "an unbelievable opportunity."
What to make of Rodgers, a Snyder pal? It is being reported that the crusty ex-coach of Kansas, UCLA and Georgia Tech was actually Snyder's first choice as he contemplated the mess "into the wee hours." Snyder wanted Robiskie to work under Rodgers, a suggestion that reportedly enraged Robiskie. Finally convinced that the players would find a Rodgers appointment laughable, Snyder called Robiskie back to offer him the job and brought Rodgers in as a Bill Walsh-type overseer role.
Copyright 2018 The Lawrence Journal-World. All rights reserved. This material may not be published, broadcast, rewritten or redistributed. We strive to uphold our values for every story published.