Walt Lesher picked up a photocopy of his perfect bowling game as he headed for the door at Royal Crest Lanes.
"I'm going to tell my wife I rolled a 300 game and she's going to say, 'Yeah, sure,'" Lesher said with a smile. "Well, this is the proof."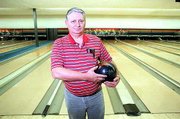 Lesher, a 61-year-old retired maintenance worker at the Hallmark Cards plant, not only rolled a 300 game on Monday afternoon, but he became the first city senior to do so in at least 20 years. Records before that are sketchy.
Lesher is a recreational bowler, but a serious one. He bowls in three leagues a week and subs in another. All that time on the lanes is reflected in his 183 average.
On Monday afternoon, Lesher was bowling in a senior league with Cleadith Bost of Baldwin. The two were alternating on lanes 19 and 20 at the city alley.
Lesher rolled a 192 in his first game and then recorded a 208. Both scores were above his average pinfall, but he was about to blow those numbers away.
In Game Three, he rolled six straight strikes and, from that point on, "I kept thinking one ball at a time."
After he rolled his 11th strike in a row, only Bost and the bowlers on the adjacent lane knew he was flirting with history. He and his lanemates kept it quiet in order to ease the pressure.
Finally, when it came time to roll that 12th frame, Lesher could only say to himself: "Oh, Lord, don't let it be an eight-pin."
The eight pin has been the undoing of more than one bowler bent on perfection.
"Every ball I had thrown was directly in the pocket," Lesher said, "but bowlers know it's not unusual to throw a perfect ball and still leave the eight-pin."
Lesher unfurled his 12th ball and all 10 pins toppled.
Until Monday, the closest Lesher had been to perfection was 279.
"That was back in the early 60s," he said. "I left the 4-9 split in the first frame and threw strikes in the next 11."
Lesher's 300 game gave him an even 700 series one pin under his previous best. Lesher used a resin reactive ball he had purchased about two months ago.
For every 300 game, the American Bowling Congress offers the bowler the choice of a ring, a watch, a jacket or a plaque.
"I think," Lesher said, still smiling, "I'll opt for the ring."
Copyright 2018 The Lawrence Journal-World. All rights reserved. This material may not be published, broadcast, rewritten or redistributed. We strive to uphold our values for every story published.