New York — PepsiCo Inc. shares rose Monday after it sealed a deal to buy Quaker Oats Co., the maker of Cap'n Crunch cereal, Aunt Jemima pancake mix and Gatorade, for about $13.4 billion in stock.
Adding the popular Gatorade to its fleet of noncarbonated beverages would give PepsiCo the dominant brand in the $2.5 billion sports drink category. The company also sells Aquafina water, Lipton teas and Tropicana juices.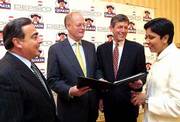 "This is one terrific moment in the history of PepsiCo and Quaker," Roger Enrico, PepsiCo chairman and chief executive officer, told analysts and investors.
He said the deal would help PepsiCo grow faster than expected in both revenue and profits.
PepsiCo shares, which had slid 6.6 percent on Friday amid reports it was close to a deal, were up $1.38 to $43.75 and Quaker advanced $1.94 to $90.94.
PepsiCo would offer 2.3 of its shares for each Quaker share under the deal announced Monday. The boards of both companies approved the deal during the weekend, but it's still subject to regulatory approval.
When the deal closes, Enrico said, Steve Reinemund, PepsiCo president and chief operating officer, would succeed him as chairman and CEO. Chief financial officer Indra Nooyi would add the title of president.
Robert Morrison, Quaker chairman and CEO, would be a vice chairman of the combined company.
Under terms of the deal, Quaker Oats could back out if PepsiCo's stock dips below $40 a share for a period of 10 random days in the month before closing. Under this scenario, PepsiCo would have to increase the share-exchange ratio to keep the deal alive.
At least two PepsiCo rivals had a similar thirst to acquire Quaker Oats: The board of Coca-Cola Co. abandoned talks to buy Quaker for a reported $15.75 billion two weeks ago and French food conglomerate Danone SA backed away from a possible bid.
In the end, PepsiCo beat out its competitors with an offer that essentially mirrored the one rejected by Chicago-based Quaker roughly one month ago.
"Gatorade would do even better under PepsiCo than it has under Quaker Oats because of better marketing and distribution," said John Sicher, a veteran soft drink industry watcher who publishes Beverage Digest in New York.
---
Copyright 2018 The Associated Press. All rights reserved. This material may not be published, broadcast, rewritten or redistributed. We strive to uphold our values for every story published.