Washington — Following damaging decisions Monday by the U.S. Supreme Court and a Florida trial judge, Vice President Al Gore is placing his increasingly urgent hopes on the seven justices of Florida's high court, where he already has received one dramatic ruling in his favor.
Aides to Texas Gov. George W. Bush, meantime, appeared confident that Leon County Circuit Court Judge N. Sanders Sauls' decision has placed them on the cusp of victory, and they prepared to counter the Gore campaign's rapid response to Monday's rulings.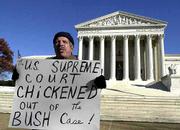 By the end of the day, the two historic cases were converging on the Florida Supreme Court: the U.S. Supreme Court's ruling setting aside its Florida counterpart's decision that allowed more time for hand recounts of ballots; and Sauls' denial of Gore's challenge of election results in three counties.
"One way or another, this case is going to be resolved by the Florida Supreme Court," said Gore attorney Ron Klain. "I think the American people understand that, and that's certainly where we're headed."
As next Tuesday's deadline approached for choosing Florida's delegates to the Electoral College, Gore's best hope was that the state high court will order a manual recount that would hand him a decisive victory, one that would turn public and legal tides in his favor.
Other battlegrounds from the Florida legislature to the U.S. Congress are controlled by Republicans and thus far less friendly to Gore. One other possible avenue for the vice president, a trial set for Wednesday on Democratic challenges to some 4,700 disputed Republican absentee ballots in Seminole County, could yet reverse enough votes for him to overcome Bush's slim lead in Florida.
But Gore's campaign, after insisting for weeks that it wanted all Florida votes counted, is publicly keeping its distance from the Seminole case. In this election challenge, a lawsuit by a local Democratic activist, Gore could win only by having a state judge invalidate all the county's 15,000 absentee ballots some 10,000 of which even Democrats admit were cast correctly a difficult legal and political maneuver.
Above the fray
For Texas Gov. George W. Bush, who benefited Monday from both the U.S. Supreme Court decision and the Florida ruling on Gore's contest of the election, the challenge is simpler. Bush plans to continue working on transition plans in an attempt to appear confident, presidential and above the fray.
"There is no question that the noose is tightening," said David Axelrod, a Chicago Democratic consultant close to Gore.
Bush aides, meantime, expressed confidence and applauded the day's developments. "The court reviewed all the facts, listened to all the arguments, considered all the evidence and concluded that Florida's votes were cast and counted fairly and properly," said Bush's communications director Karen Hughes.
The governor spoke to reporters after the Supreme Court ruling but before Sauls' decision, saying it was up to Gore whether to concede defeat. Sitting in the holiday-decorated gubernatorial mansion in Austin, Tex., Bush distanced himself from recent comments about Gore by his running mate, Dick Cheney, that "I do think it's time for him to concede."
Asked if he was ready to echo Cheney's call, Bush said "No, I'm not."
Perhaps because he is increasingly confident of victory, Bush sought to strike a more conciliatory tone toward Gore.
Conceding defeat is "a very difficult decision for anybody to make, and I understand that," Bush said. "I know that the interests of the country will be important in his decision-making, just like it would be in mine."
Gore's lawyers expect the Florida Supreme Court to hear the appeal from the Leon County court decision at the same time it considers the U.S. Supreme Court order. This could set up a dramatic day, perhaps sometime within the next week, when the Florida high court would decide Gore's fate, providing an air of finality to an otherwise muddy process.
All seven of Florida's Supreme Court justices were named by Democratic governors, giving Gore some reason for optimism. Yet the court was to some degree reined Monday in by the U.S. Supreme Court. And Sauls' findings were broad and decisive and could be hard for the Florida Supreme Court to overrule.
"The Gore campaign has suffered two major defeats today," said Rep. J.C. Watts, R-Okla. "How many defeats are enough? The time has come for the vice president to admit defeat, concede gracefully and allow our nation to move forward."
A plea for patience
Struggling to keep public opinion on his side, Gore's lawyers have begun asking for patience until the Florida Supreme Court takes up the matter. Despite Sauls' forceful ruling Monday, Gore attorney David Boies portrayed it almost as a victory because now the state Supreme Court justices can finally consider the case.
Gore aides were also eager to avoid any suggestion of an imminent surrender, and portrayed the vice president as quietly pushing ahead with his transition plans. "There is no concession speech being drafted," Gore spokeswoman Julia Payne said emphatically. "We are going about our business and waiting for the Florida Supreme Court."
Yet frustration is beginning to bubble up among Democrats about Gore's public relations efforts; some believe they have been ineffective. "They are talking legalese and being defensive," said Democratic consultant Victor Fingerhut. "I think it's been a disaster."
"The Gore people should be saying, 'Look, we won the national popular vote, and not just by a few votes more than 300,000 more people wanted Gore to be president," Fingerhut added. "It's clear we won Florida. You can keep the votes from being counted, you can run out the clock, and if you were a gentleman you would concede.' But they're not doing it."
For his part, Bush sought to convey the image of a man preparing to send a moving van to the nation's capital. He said he would be sending Cheney today to Capitol Hill to begin working with Republican congressional leaders on advancing his presidential agenda in the next Congress.
Gore and his followers are bent on keeping Democratic leaders publicly supportive despite the legal setbacks. Gore's running mate Joseph Lieberman, along with Klain, hosted a conference call with congressional Democrats Monday. Such efforts appeared to be having some effect, and congressional Democrats appear to be largely on board, at least so far.
Congressional support
After the state court ruling, Senate Minority Leader Tom Daschle, D-S.D., and House Minority Leader Richard Gephardt, D-Mo., issued a joint statement backing Gore's continued legal challenge.
"We are united in our support of the decision to appeal the ruling to the Florida Supreme Court," they wrote. "We believe this appeal is in keeping with Florida law and American democracy. We also believe Democrats in the House and Senate share our views."
Perhaps the most daunting problem confronting Gore was the approaching deadline. Florida, like other states, must choose its presidential electors by next Tuesday. With each succeeding day, there will be less time to conduct the hand counts Gore wants even if he were to win a last-minute victory in the Florida Supreme Court.
As election lawyer Kenneth Gross put it, "The ticking clock, which they've been hearing all along, just got louder."
Copyright 2018 The Lawrence Journal-World. All rights reserved. This material may not be published, broadcast, rewritten or redistributed. We strive to uphold our values for every story published.