Washington — Framed by pictures of colorful fish, leathery sea turtles and endangered Hawaiian monk seals, President Clinton on Monday created the largest U.S. nature preserve 84 million acres underwater around the northwestern Hawaiian Islands to help save the coral reefs and wildlife that inhabit the area.
The Pacific Ocean reserve, at 99,500 square nautical miles as large as Florida and Georgia combined, contains nearly 70 percent of the United States' coral reefs, as well as pristine remote islands, atolls and submerged lagoons "a special place where the sea is a living rainbow," Clinton said.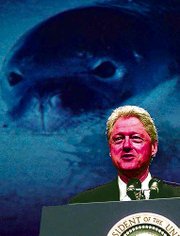 Despite immediate criticism of the reserve from some in the Hawaiian fishing industry, Clinton said coral reefs support thousands of species of fish and sea life, generate millions in fishing and tourism, protect coastal communities from pounding waves and provide new hope for medical breakthroughs.
"However, the world's reefs are in peril," the president told the National Geographic Society as a projection screen behind him showed constantly changing scenes of ocean wildlife. "Pollution, damage from dynamite fishing, coral poachers, unwise coastal development and global warming already have killed over 25 percent of the world's reefs."
The new Northwestern Hawaiian Islands Coral Reef Reserve encompasses the Hawaiian Islands National Wildlife Refuge set up by President Theodore Roosevelt.
"He knew then that our natural wonders on land and sea form an integral part of who we are as a people, and that every generation of Americans must do its part to sustain and strengthen this legacy," Clinton said. "Today we do just that, incorporating the refuge he created into a new, vast and wonderful Yellowstone of the sea."
The reserve will ban oil and gas exploration, the dumping of any material and any alterations of the seabed or the coral and most sea life. Clinton's executive order also caps the already limited fishing at recent or current levels.
Some members of the Hawaiian fishing industry opposed creation of the new reserve.
"The president's order should be renamed the 'new Hawaiian Territorial Act' as it gives the great white father in Washington control of Hawaiian resources," said Jim Cook, a long-line fisherman and former chair of the Western Pacific Regional Fisheries Management Council.
Copyright 2018 The Associated Press. All rights reserved. This material may not be published, broadcast, rewritten or redistributed. We strive to uphold our values for every story published.