Freshman Lauren Kracl scored 20 points and Jessica Bryant added 16 points to lead Eudora to a 51-33 victory over Kansas City Maranatha on Monday in the first round of the Cardinal Invitational girls basketball tournament.
Kracl also had 14 rebounds and eight steals for Eudora (1-1).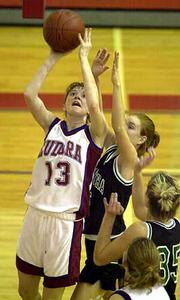 The win was the first for new EHS coach Gretchen Freeland, a former Cardinal standout.
Boys
KC Turner 56, Eudora 53
Gardner Kansas City Turner connected on a 25-foot three-pointer with two seconds left to dump Eudora in the first round of the Gardner-Edgerton boys basketball tournament. Eudora junior Zac Tyler scored on a three-point goal on the previous possession for a 53-53 tie. Tyler finished with a game-high 26 points.
Baldwin 54, KC Ward 48
Gardner Baldwin outscored Kansas City Ward, 14-9, in a pivotal third quarter in the first round of the Gardner-Edgerton tournament. Senior Ben Cosman scored 16 points to lead No. 4-ranked Baldwin, now 2-0. Heath Knight and Luke Tutschulte scored 10 points apiece for the Bulldogs.
Copyright 2018 The Lawrence Journal-World. All rights reserved. This material may not be published, broadcast, rewritten or redistributed. We strive to uphold our values for every story published.