When Shea Clark started her walk to school that morning, she had no idea she would end up saving someone's life.
In fact, the 12-year-old Woodlawn School student says she doesn't think she did anything all that heroic.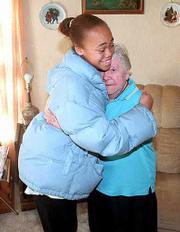 But don't tell that to Eunice "Toots" Tryon and her daughter, Lois Hart. Tryon suffered a stroke and Shea got help, they said.
"My daughter's convinced (Shea) saved my life and I guess she did," Tryon said Monday.
On the morning of Nov. 20, Shea walked by Tryon's home and noticed the woman was struggling to open her front door and seemed to be in trouble, the sixth-grader said during an interview at her North Lawrence school. Shea went to see about the older woman.
"She was trying to talk and tell me something," Shea said. "I couldn't understand her. I finally understood that she was needing help. Her eyes were wide open."
Shea went to get help from a neighbor.
"I then went on to school and didn't hear anymore about it," Shea said.
Tryon had suffered a stroke the night before and fell, knocking the telephone off the hook, Hart said.
"She knew the students would be walking to school the next morning so she managed to get to the door to try to get their attention," Hart said.
On Monday, Hart arrived at Woodlawn to thank Shea and informed teachers and staff what the girl had done. It was the first any of them had heard about it.
"All you hear about is how bad kids are," Hart said. "We didn't know her and we were very impressed with what she did. I'm convinced she saved Mom's life."
Shea went to Tryon's home again Monday after school and received a warm, personal "thank you."
Tryon said she spent a week in the hospital but is now doing well.
Copyright 2017 The Lawrence Journal-World. All rights reserved. This material may not be published, broadcast, rewritten or redistributed. We strive to uphold our values for every story published.