Pulitzer-winning poet dies
Gwendolyn Brooks, who won a Pulitzer Prize for her candid and compassionate poetry that delved into poverty, racism and drugs among black people, died Sunday at the age of 83.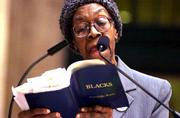 She died in her home of cancer, her agent, Carolyn Aguila, said.
Brooks won the Pulitzer Prize in 1949 for her second book of poetry, "Annie Allen." She wrote hundreds of poems, had more than 20 books published, and had been Illinois' poet laureate since 1968.
Brooks was born in Topeka, Kan., in 1917, but grew up in Chicago.
Brockovich's new battle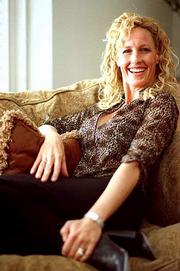 Erin Brockovich, whose fight against a powerful California utility was celebrated in a hit movie, may soon be taking on another crusade.
Brockovich, who exposed widespread water contamination in Hinkley, Calif., has agreed to investigate possible hydrogen sulfide contamination in a York, Neb., residential neighborhood.
The Lawrence native, now an environmental lawyer, learned of the problem through a letter from a resident who said her house has tested for hydrogen sulfide at a level five times higher than is considered safe. The gas can be fatal in high concentrations.
They're not afraid
Patrick Stewart and Mercedes Ruehl have been cast in Edward Albee's "Who's Afraid of Virginia Woolf?", which opens at Minneapolis' Guthrie Theater in late February.
Stewart, who played Capt. Jean-Luc Picard in "Star Trek: The Next Generation," will play George, the husband. Ruehl, who won a 1992 Academy Award for "The Fisher King" and a 1991 Tony Award for "Lost in Yonkers," will play his wife, Martha.
Ballerina stands ground, wins
Renowned ballerina Maya Plisetskaya won a libel suit against a Moscow newspaper that reported she had secretly given birth to a daughter.
The newspaper Moskovskiye Vedomosti reported in March that Plisetskaya, 75, had given birth to a daughter in 1978 and that the daughter now lived in Israel, according to the news agency ITAR-Tass.
A Moscow court ruled Friday that the newspaper must pay damages of $380 and publish a retraction within 10 days, ITAR-Tass said.
Copyright 2018 The Lawrence Journal-World. All rights reserved. This material may not be published, broadcast, rewritten or redistributed. We strive to uphold our values for every story published.