TALLAHASSEE, FLA. — After a marathon weekend of testimony about statistics and vote-counting machines, a Florida judge said he would decide this morning whether to examine thousands of disputed ballots or to leave the state's certified presidential results alone. His ruling will affect who becomes the next president.
During a two-day trial that ended Sunday night, lawyers for Vice President Al Gore pressed Circuit Court Judge N. Sanders Sauls to study 13,000 questioned ballots from two South Florida counties and include additional Gore votes from a third county. Lawyers for Texas Gov. George W. Bush, ahead by 537 votes in the state's certified totals, argued that a recount is needless and illegal.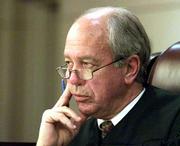 At stake are Florida's crucial 25 electoral votes, which both men need to secure the White House. The rare weekend trial emphasized the importance of those votes, with a Dec. 12 deadline for choosing electors to the Electoral College.
Even as the trial plodded along, Republicans called for an end to the presidential election standoff, while Democrats urged patience.
During a television appearance Sunday morning, Republican vice presidential candidate Dick Cheney said "it's time" for Gore to concede, and called for a resolution in "the next few days" to avoid "damage to the nation."
In an interview on CBS' "60 Minutes," Gore said, "Whatever happens, both sides know that it's going to end up in the Florida Supreme Court." Still, he said, no matter who wins, the loser should immediately pledge to work for national unity. "At the end of the day ... if George Bush is sworn in as president, he'll be my president," Gore said. "He'll be America's president."
Bush and Gore also await decisions from the U.S. Supreme Court, which deliberated this weekend on whether the Florida Supreme Court overstepped its authority when it said counties could go past a state deadline with recounts, and from Florida's Legislature, which is weighing a special session to choose the electors itself.
The session before Sauls in Courtroom 3D stretched into the late evening with closing arguments from the Bush and Gore camps. What had been meant to be a 12-hour trial ran more than 20 hours. By then, the courtroom was strewn with empty water bottles and piled with random papers.
"The critical thing is this," Gore attorney David Boies told the judge, asking him to examine the boxes of disputed ballots now stored in the Leon County courthouse. "There are ballots that the machines cannot read, but from which the voter intent can be discerned by manual review.
"It's not hundreds of thousands," Boies said. "It's not tens of thousands. It may not even be many thousands. But it is certainly many, many hundred and perhaps thousands, and that is far more than enough to make a difference in this race."
Bush attorneys countered that Florida's election, with its counts and recounts, is complete. "There's no proof of any problems," Bush attorney Barry Richard said. "There's no evidenceno evidence which is sufficient to overturn the count."
Richard left Sauls with one final question: "Whether Florida is prepared to tell the American people that it will disqualify its electors and possibly hinge the election of the presidency on the only two witnesses presented by the plaintiffs."
Sunday morning, under chilly, gray skies in Tallahassee, dozens of lawyers jammed the courthouse in an otherwise empty, shuttered downtown. Most of the day was spent with witnesses for the Bush team. The Gore team had called just two witnesses a day earlier.
The central debate was this: Did the people who left more than 13,000 disputed ballots in Democratic-leaning Miami-Dade and Palm Beach counties intend to vote or not?
The punch card-style ballots in question registered no vote in the presidential race when they were sent through vote-reading machines.
Gore's side attempted to prove that citizens tried to vote in the presidential race but had difficulty punching complete holes in the ballots and instead left behind dents and dimples in the cards that machines couldn't detect. The Bush team contended that those voters simply chose not to vote in the presidential race, and contended that Gore's side was trying to "turn non-votes into votes."
For Gore, the most important ballots were the ones from Miami-Dade County. There, some 9,000 questioned ballots were never examined in a manual recount since that county stopped its hand count when the canvassing board decided it couldn't complete the task in the time allowed by the Florida Supreme Court.
The other county Gore has contested is Nassau in northeast Florida.
In Nassau, Gore picked up 51 votes during a recount of the votes. That county's canvassing board chose, however, to certify to the state its initial count after it discovered an error in the recount. Gore attorneys contended that Nassau's recount should stand as the final vote, adding the 51 votes for Gore.
In Palm Beach, Gore's attorneys hoped to include results of that county's hand recount, which would give Gore about 200 extra votes, although the exact number remains in dispute. Palm Beach county's canvassing board finished Nov. 26 two hours after the Florida secretary of state chose to exclude those recount results.
Gore attorneys claimed they are entitled to those extra votes, as well as to a new hand recount of 3,300 disputed Palm Beach ballots by Beach's canvassing board used too rigid a eer who designed voting devices, the Bush attorneys attempted to show that ballots with marks and dents may not signify votes at three decades, said so-called "dimpled" ballots can be caused by a wide variety of factors: humidity in storage, manufacturing problems, election workers' handling, and even voters' pointy fingernails.
"If they're not handled properly, there can be nicks and dings or fingerprints," Ahmann said. "You can dimple the ballot and have no intention of voting."
But, in one of the most dramatic moments of the day, Ahmann acknowledged during cross-examination that manual recounts are superior to machine counts in "very close" elections. The testimony contradicted the position of Bush attorneys, who say machines have properly counted Florida's vote, more than once.
As Ahmann completed more than an hour of testimony, Sauls askut those remarks. "You need either reinspection or manual recounts where you have that sithave a very close election."
The importance of Miami-Dade County's ballots to Gore became increasingly clear on Sunday, as thers from that county's aborted recount efforts. The Bush team attempted to show that the recount had been flawed and had physically changed the ballots, making a recount worthless and bogus.
Thomas Spencer, a lawyer from Miami who observed the recount efforts for the Republican Party, described workers flipping through the vote cards, and even dropping a tray of them on the floor. What's more, he said, canvassing board members counted dimpled and dented ballots with no consistent standard.
Thomas Spargo, a New York state Republican Party member who also observed Miami's recount, told the judge he had seen mounds of fallen "chad"the tiny bits of paper from punched vote cardspile up on the floor.
Holding up a photograph of Spargo sitting, clapping, on the floor of Miami-Dade County's counting center floor with other protesting Republicans, Gore's attorneys tried to convince the judge that Spargo was too biased to be believed.
Both sides presented clashing testimony from statisticians to bolster their claims. On Sunday, among the statistical claims to back up its case, the Bush team adopted an ironic argument: the "butterfly ballot."
The butterfly ballot had been the center of the Democrats' ire since Election Day in Palm Beach County. Democrats there complained that the ballot confused them, and led them to vote for Pat Buchanan or for both Buchanan and Gore. In weeks past, Republicans there have downplayed any confusion and suggested that the ballot was clear.
But on Sunday, the Bush attorneys incorporated the controversial butterfly ballot into their argument that some ballots were simply left blank. They suggested that the ballot may have been so misunderstood by voters that the voters there simply opted against voting for president.
Although most people viewed the Tallahassee trial as the vice president's best hope of overtaking Bush, others contend that it's not Gore's only remaining shot.
Several other cases brought by Democrat-leaning voters, not specifically by Gore, could gain importance this week. Suits about absentee voting in Martin and Seminole counties, where Democrats allege that Republicans were improperly allowed to correct voter registration numbers on absentee ballot applications, are scheduled for trial Wednesday in Tallahassee.
A third case brought by voters challenges 1,500 overseas absentee ballots that arrived after Election Day in 10 Florida counties. Often sent by military personnel, those ballots favored Bush. The suit alleges that Florida law includes no provision for ballots to arrive late, despite a long-held state practice of accepting them as late as 10 days after Election Day.
Copyright 2018 The Lawrence Journal-World. All rights reserved. This material may not be published, broadcast, rewritten or redistributed. We strive to uphold our values for every story published.