Phillip Metsker steers a John Deere tractor through a field south of Lawrence. He's plowing under stalks that were stripped of ears of corn for this year's harvest.
"I dirt-farm and I raise hogs," Metsker said, his green tractor bouncing over furrows cut in the soil. Metsker's family farm near Lone Star raises about 5,500 hogs a year.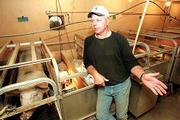 When Seaboard Farms' new $140 million hog-slaughtering plant opens in Elwood in Doniphan County sometime in 2004, Metsker may see greater demand for his hogs, but he doesn't expect it will last long.
"Seaboard will kill everybody's hogs for awhile before they get their own farms built up," he said.
Though it might seem too far away to worry about, some in the hog industry say Douglas County residents have a stake in a decision the Elwood city council is scheduled to make Tuesday.
Despite heavy protest from many in the Elwood area, Seaboard wants to build a giant packinghouse in the tiny northeast Kansas town about 90 miles from Lawrence. If the company succeeds, that puts Douglas County within the normal radius for big hog farms that spring up to supply big slaughterhouses.
Good for some
While it would be good news for area producers and farmers looking to enter the contract growing business, it would upset others who don't want to live near the stench, pollution or social ills that typically accompany corporate hog production.
Near the plant site, there are other concerns.
Doniphan County resident Brenda Kirkland and her husband purchased a house south of Elwood in July. A month later, they found out their new neighbor could be a Seaboard Farms hog processing plant. Between 90 and 180 tractor-trailer trucks a day will come to the plant, which will slaughter 16,000 hogs a day.
"It's a newly remodeled house," Kirkland said. "It has a big deck on the back and a big gazebo. We don't know if we can ever sit out there because of the smell."
Such concerns seem to follow Seaboard just about everywhere it goes.
Seaboard Farms is the subsidiary of multinational agribusiness company Seaboard Inc., based in Merriam. The company operates a slaughter plant in Guymon, Okla., that is as large as the one the company is planning in Elwood.
Seaboard is accused by critics of damaging the environment in southwest Kansas and the Oklahoma panhandle because corporate-run farms producing tens of thousands of hogs have been built to supply the Guymon plant's 4-million-animal a year appetite. Many of the farms are operated by the company or contract with it. Most are located within a four-hour drive of the plant.
Little area worry
Metsker, whose entire year's production would meet only about a third of the Elwood plant's daily demand, isn't among those expecting corporate farms with large earthen pits filled with tons of manure to spring up across northeast Kansas if the Elwood plant opens.
Typically, such farms are located close to the plant so the hogs can be kept alive during transport from producer to packer. But Metsker said advances in transportation make it possible to haul hogs over distances greater than 150 miles. That means hogs can come from far-flung farms.
"On the hottest day of the year, they can load 'em at night and have them in St. Joe seven hours later at sunup," Metsker said. Elwood is across the Missouri River from St. Joseph, Mo.
The Lawrence-based attorney for the Kansas Sierra Club said he didn't expect large corporate farms to develop in the Elwood radius that includes Lawrence, either. Instead, he expects a boom for family farm hog producers who are willing to expand.
"As I understand it, what they've decided to do is contract out to individual family farms," said Charles Benjamin, the attorney. "I think we'll see farms with 2,000 to 5,000 hogs."
Another view
Seaboard demand in northeast Kansas could encourage hog farm growth in the area, said a Kansas Farm Bureau official.
"The closer the supply is to you then the lower your costs," said Leslie Kaufman, associate director of public policy for the Farm Bureau.
And at least one Oklahoma producer warns against trusting anything Seaboard says.
"God help you if they build a plant," said Brett Fowler, who farms in Hooker, Okla. "On a broad spectrum of issues, they lied to us."
He said Seaboard's Guymon plant promised to buy hogs locally, as it is promising it will do for the Elwood plant. It promised hog farms would not be built around the plant, he said.
"They're a bunch of damn liars," Fowler said.
Gary Reckrodt, Seaboard spokesman, said the company plans to locate the plant at Elwood because it can purchase hogs from South Dakota, Minnesota, Nebraska, Iowa, Missouri and Kansas.
"We realize we can't duplicate what we did in Guymon in northeast Kansas," Reckrodt said. "It's too capital intensive, too environmentally and politically costly to do."
Supply, transportation
In Guymon, the company wanted a production plant closer than its others to the West Coast. And in an example of what Seaboard calls "vertically integrated" pork production, the company had to build up a supply for the plant. In fact, the company is still building supply to meet its capacity. It's doing that by setting up producers working under contract to the plant and following company-mandated standards.
"Elwood gives us access to a quantity and quality of hogs for the plant," he said. "And it gives us access to a transportation infrastructure."
Between 3 million and 3.5 million of the hogs supplied to the Elwood plant will come through contract agreements with family or smaller corporate farms that agree to Seaboard's very strict standards for feeding and care of the hogs. The rest of the animals needed for the plant's production will be purchased on the open market, Reckrodt said.
Metsker already has decided he won't be a contract farmer for Seaboard.
"It doesn't pay enough," he said. "You're basically someone's hired man."
Copyright 2018 The Lawrence Journal-World. All rights reserved. This material may not be published, broadcast, rewritten or redistributed. We strive to uphold our values for every story published.