A downtown Lawrence tradition, dressed in its Christmas finery and jingle bells, will delight thousands of people today.
More than 100 carriages, wagons and other horse-drawn vehicles are expected to travel down Massachusetts Street for the eighth annual Eldridge Hotel Old Fashioned Christmas Parade, starting at 11 a.m. today.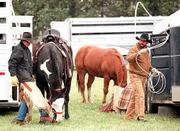 "People from all ages come to the parade," said Rob Phillips, owner of the Eldridge. "It's very family-oriented, from the spectators to the participants."
This year's parade almost didn't happen.
Last December, Phillips, parade organizer and founder, announced he would have to give up the event because of high costs. At least $12,000 to $15,000 was needed to hire security guards, rent the Douglas County 4-H Fairgrounds where the horses are stabled and pay for hotel rooms and other expenses, he said.
"It started off a small parade and then kept growing, growing and growing," Phillips said. "We wanted the parade to continue, but the Eldridge Hotel couldn't fund it anymore."
Then, Peach Madl, owner of the Sandbar, and Elaine VanDeventer, vice president of commercial lending at Intrust Bank, stepped forward and organized a fund-raising campaign. In July, Morris Magness, a Texas businessman and ranch owner, donated $1,000. He has three entries in today's parade.
Melva Sanner, Blue Rapids, said she hasn't missed a parade yet. She has assisted with the parade every year as a volunteer at the fairgrounds. She said she enjoys the camaraderie and is thankful the parade won't come to an end.
"Rob (Phillips) and the Eldridge have done a good job continuing the parade, and it was good that people stepped forward and donated money to keep it going," she said.
Phillips said a committee probably will be formed to help organize the 2001 parade, and the fund-raising efforts will continue as well.
"If we don't have events like this to bring people downtown, then it doesn't have such an importance anymore," he said.
Copyright 2018 The Lawrence Journal-World. All rights reserved. This material may not be published, broadcast, rewritten or redistributed. We strive to uphold our values for every story published.