You've heard of "too many men on the field" in college football.
How about "too few men on the court" in basketball?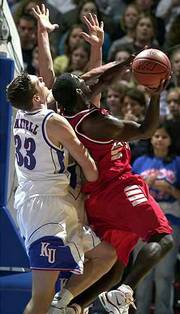 Believe it or not, just three Kansas basketball players took the floor as the ball was about to be inbounded after a time out midway through the second half of KU's 80-61 victory over Illinois State on Thursday at Allen Fieldhouse.
"Stupidity," said KU coach Roy Williams, who was forced to call a time out to clean up the mix-up.
It seems Drew Gooden and Luke Axtell, who were in the game when Illinois State called a 30-second time out with 11:10 left, thought they were being replaced during the stoppage.
"Thirteen years I've coached you don't come out of the game until somebody comes in for you," Williams said. "We didn't have anybody go in the game for two guys. They decided they were being substituted for without anybody saying, 'I got you.'
"Luke Axtell and Drew Gooden nobody came in the game for them. They thought were being substituted for, for some reason. Maybe the moon wasn't right or the stars were not aligned right," the coach surmised, shaking his head.
Gooden explained the fiasco.
"I got mixed up. I thought Nick Collison was coming in for me. Nick came in for Eric (Chenowith)," Gooden said. "I was caught up in the moment, the excitement. I usually don't play that much the second half. For some reason I thought I was out."
Gooden played 15 minutes the final half.
KU senior Kenny Gregory had just one rebound to go with 11 points in 21 minutes.
He was bothered by a sore right foot.
"He's got a foot problem. His foot hurts him on the outside. It's swollen a little bit," Williams said. "Kenny was hit on the jaw the other night (Monday versus Middle Tennessee State) and had a tooth pulled Tuesday. I was happy he had to sit out (Tuesday's) practice because he needed to rest his foot.
"Forty five minutes before the game he said his foot was really bothering him. Mark (Cairns, trainer) watched him and saw him get it loose in warmups. Kenny wanted to try it.
"It's his first game this year with zero offensive rebounds and one total. I think a lot of that is related to,
he didn't feel real good jumping off it," Williams added.
Freshman Mario Kinsey had four points in 11 minutes, playing just nine days after surgery to repair anterior compartment syndrome in his left leg.
"He did OK. His last shot is one I don't think he should have taken," Williams said of Kinsey, who hit one of four shots. "He had Drew posted up inside and Luke wide open on the wing, but it's hard for him. He's not had as much practice time. He still has some pain in the leg."
Luke Axtell stepped on the foot of a teammate and again tweaked his sprained left foot Thursday. He scored 11 points and had a career-high eight boards in 20 minutes.
"It's easy to rebound when you box out. I really didn't know I had that many," Axtell said.
"Twenty minutes is about all I wanted to get out of him," Williams said. "Right now he's still trying to come back from the ankle. Hopefully if we get another week without tweaking it again I think we'll be in good shape."
KU finished the month with 36 straight November victories. KU hit 49.2 percent of its shots, the first time KU dipped below 50 percent in a game. KU's 33 points in the first half were a season low and 80 points a season low. KU outscored its opponents an average of 92.8 to 61.0 in its five-game homestand. KU outrebounded its foes 50.2 to 31.0. KU outrebounded ISU 45-38 despite the Redbirds winning the board battle the first half, 26-21.
---
MORE: www.kusports.com
Copyright 2017 The Lawrence Journal-World. All rights reserved. This material may not be published, broadcast, rewritten or redistributed. We strive to uphold our values for every story published.