After you've been in the clergy long enough, you get to the point where you've seen just about everything.
And the Rev. James Shaughnessy, pastor of Corpus Christi Catholic Church, 6001 W. 15th St., has a story that tops them all.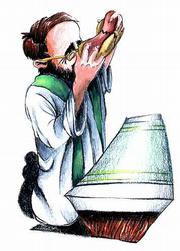 "When I was the chaplain at Lansing at the penitentiary, the inmates also stored their music instruments in the chapel. They would usually get there about five minutes before I would start a service for the men. I'd let them get their stuff, and they'd leave," Shaughnessy says.
"One time I started the service, and they came. They wanted the instruments, and I said, 'No, you need to wait another 15 minutes till I'm done.'"
The inmates left, and Shaughnessy started the service.
"All the sudden I heard this crash. There was a false ceiling over the chapel. An inmate fell through right in front of the altar and landed on his back. He was trying to get to the office so he could get to the instruments," the pastor says.
But Shaughnessy remained cool.
"I suggested to the men they might want to work on their burglary skills."
Short on dough
Like Shaughnessy, nearly every minister, pastor and rabbi has a funny story or two to tell about an experience they've had on the job.
Stories about times when things didn't go as planned, times when it really helped to have a good sense of humor.
The Rev. Jim Dunkin has a story like that.
He's senior pastor at First Presbyterian Church, 2415 Clinton Parkway.
"In Kingfisher, Okla., where I once served as pastor, we had a man who prepared the elements for Communion. He kept frozen bread in the church freezer that we used to break (during Communion). It was always a real heavy, nice loaf of bread," Dunkin says.
"One Sunday morning in this small town, when no grocery stores were open, he told me we had no bread. He asked me if I had any. I didn't. So he called his wife, and she said they had one hot dog bun. So we used that."
The story continues: "The last service I had in that congregation was Christmas Eve, and the stores were closed. He told me we had no bread in the freezer again. So he called his wife.
"She had one whole-wheat hot dog bun. So my last Communion with that congregation, I lifted up a whole-wheat hot dog bun," Dunkin says.
Dunkin took the incident in stride.
"You have to have a sense of humor. God's given me one, so I can do that," Dunkin says. "Jesus just tried to use the common elements that they had at His table bread and wine for the everlasting remembrance of Him. If they'd been eating hot dogs, I guess they would have used hot dog buns."
Close to the congregation
The Rev. Judy Long O'Neal knows firsthand about the value of being able to laugh at oneself.
She's senior pastor at Centenary United Methodist Church, 245 N. Fourth St.
O'Neal recalls a particular experience she had when she was a student intern at Centenary Church.
"We had a rail between the Communion table and the worshippers, and they would come up and kneel at the rail. On this particular Sunday, a woman who uses a wheelchair came up for Communion," O'Neal says.
"So I leaned over the rail with the chalice which holds grape juice and as I leaned over to offer the Communion cup, the rail came off. I fell forward and two steps down, just short of landing on the woman's lap. I spilled grape juice everywhere, including on the people next to us."
That was about five years ago.
"I've never been allowed to forget this," O'Neal says.
Last-minute ride
The Rev. Peter Luckey had an experience a couple of months ago that still has him laughing at himself.
"I have this old Volvo that has over 100,000 miles on it. I CONTINUED FROM PAGE 1D
was in a funeral procession, and the car died in the middle of it. I think it was the alternator," says Luckey, senior pastor of Plymouth Congregational Church, 925 Vt.
"So there I am in my funeral vestments and with my prayer book in hand, hitchhiking along 15th Street to get to the cemetery."
But all was not lost.
"The funerals in Lawrence that we do always have a police escort from the church to the cemetery. The escort was circling back, and I flagged down the squad car," Luckey says. "So Lawrence's finest provided me free transportation, and I got there just in time to give the last words. I showed up in the squad car. They got a big kick out of it."
(Luckey has since gotten rid of the old Volvo and replaced it with a new vehicle.)
Lawrence pastors agree: You've got to be able to laugh in this line of work.
"I think it's absolutely essential to have a sense of humor. If you're not able to enjoy being a minister and find fun in it, that's a shame. It really is what makes the job worth it day in and day out," Luckey says.
Religion doesn't have to be such a serious business.
"Somebody said that humor is the hand of God in a troubled world," Luckey adds.
Copyright 2017 The Lawrence Journal-World. All rights reserved. This material may not be published, broadcast, rewritten or redistributed. We strive to uphold our values for every story published.