Topeka — About 60 people rallied Thursday for a so-called "living wage" to help working Kansans, but they conceded their first fight will be to increase the state minimum wage, which is one of the lowest in the nation.
The state minimum wage in Kansas is $2.65 per hour and applies to some 26,000 employees not covered by the regulations of the federal minimum wage of $5.15 per hour.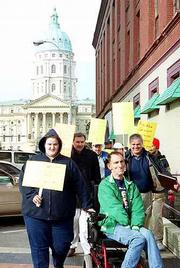 Kansas' minimum wage is the second lowest of the 43 states that have state minimum wages. Wyoming is the lowest at $1.60 per hour.
"We must insist in these wealthy times and in this wealthy country, working people be paid enough to meet their basic needs," said Camilia Owen, of the Flinthills Living Wage Coalition.
Attempts to raise the state minimum wage have been opposed in the Legislature. During the 2000 session, a Senate committee turned a proposed increase in the minimum wage on its head by tying it to a measure that would prohibit municipalities from establishing living wage ordinances.
Living wage ordinances have been adopted in about 50 cities across the nation and have been discussed in Lawrence and Manhattan.
The ordinances generally seek to ensure that businesses with either government contracts or tax breaks pay their workers enough to maintain a minimum standard of living.
In Kansas, studies have pegged the living wage from between about $6.50 per hour for a single adult to $20 per hour for a single wage earner supporting a family for four.
A bill introduced in Congress would require that firms awarded federal contracts pay employees at least $8.20 hour, which would support a family of four at the federal poverty level.
On Thursday, a coalition of labor and civil justice groups met at the Statehouse and then marched five blocks to the office of U.S. Sen. Sam Brownback, R-Kan., to urge him to support the living wage bill.
"We had a great dialogue," J.D. Johannes, state aide to Brownback said. He said Brownback hasn't weighed in on the living wage measure.
Bill Beachy, head of the Kansas Action Network, which sponsored the rally, said the group's discussion with Brownback's office went well.
"This (living wage proposal) would be good for the economy," Beachy said because it would reduce reliance on welfare and provide people more money to spend.
"Plus, it's the fair and right thing to do for people who are trying to support a family," he said.
Paul Fairchild of Lawrence, chairman of the Kaw Valley Living Wage Alliance, said the group would meet next month to determine how much a living wage in Lawrence would be.
Business groups generally oppose living wage ordinances, saying they impair the ability of companies to grow and provide jobs.
Don Brown, a spokesman for Gov. Bill Graves, said Graves supports increasing the state minimum wage to the federal level and would sign such legislation into law if the Legislature would approve it.
Copyright 2017 The Lawrence Journal-World. All rights reserved. This material may not be published, broadcast, rewritten or redistributed. We strive to uphold our values for every story published.