The attempted stickup of a downtown Lawrence bank may have been the last resort of a man beset by health and financial woes and struggling to give his family a happy holiday.
"He was just trying to help out his family," the suspect's daughter said after learning authorities were holding her 57-year-old father in connection with an attempted robbery and hostage-taking at Firstar Bank.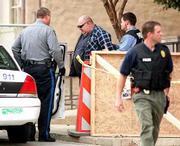 Police say there were about 25 employees and a patron in the bank lobby about 12:30 p.m. when Paul David Lee entered the building at Ninth and Massachusetts streets, demanding money.
"It's a frightening experience when there's an event like that in a bank," said Chuck Warner, president of Firstar Banks of Lawrence. Warner was among those caught in the bank when Lee entered.
Employees were evacuated from the bank, which occupies the first floor of the six-story office building. Employees on the remaining floors also were evacuated. There were no reports of injuries.
During the incident, a police marksman perched on the roof of Weaver's Department Store ready, if necessary, to shoot the armed hostage-taker in the bank across the street.
About 50 minutes of tension and police scrambling ended peacefully when Lee laid aside his CO2 pellet pistol and surrendered, his only hostage unharmed.
Details about what exactly happened inside the bank remained sketchy at day's end. Federal Bureau of Investigation agents warned employees not to talk about the incident. And police refused to provide much detail beyond a terse half-page statement that said "a lone white male" first thought to be armed with a handgun and perhaps a bomb, had taken over the bank.
But it was plain to see for anyone in the heart of downtown to see what was going on outside the bank.
Downtown shut down
Lawrence Police, Douglas County sheriff's deputies and an officer from Kansas University Public Safety arrived within minutes. They blocked the 800 and 900 blocks of Massachusetts Street, commandeered the first floor of Weaver's Department Store and shooed back onlookers who gathered for a better look.
Massachusetts Street shop owners in the area were asked to lock their front doors and evacuate shoppers through rear exits.
Police were tense, but many onlookers seemed amused.
"This is more interesting than a football game," one young woman said into her cell phone.
About 15 minutes after the standoff began, an unidentified bank employee emerged, was frisked, then escorted into Weaver's.
Lawrence Police Sgt. Mike Pattrick said officers contacted Lee on a cell phone inside the bank to begin negotiations to release the employees. Most were released from the back of the bank, but Lee kept one man in his custody until his surrender about 1:20 p.m. Pattrick said investigators determined the bomb report was false before arrival of the Overland Park bomb squad, which earlier was summoned.
Officers took Lee out the back of the bank to a waiting police car. They drove him through a throng of media and onlookers to the Douglas County Law Enforcement Center.
Tucker Gilmore, an employee at Java Dive a coffee shop across the street from the bank's rear entrance said his customers had an unexpected reaction to the sight of gray-haired Lee.
"It seemed like people in here had compassion for him," Gilmore said. "They were expecting a young man, a 'crazed gunman.' He looked like a down-on-his-luck farmer."
Arrest surprises family
Jason Lee, 25, arrived home from work Thursday afternoon to find two police officers parked outside and an FBI agent inside talking to his mother, Mary Ann Lee. It was then that Jason Lee found out his father had been arrested.

"He's a kind old man," Jason Lee said. "I have no idea why he'd do something like this."
But Lee and his sister, Kim Pobjoy, 29, said family finances had been tight for the past decade. They said their father, who is 6 feet tall and weighs 328 pounds according to jail booking records, injured his back in a 1989 accident at Lawrence Paper Co. and had been collecting meager disability payments since.
"He takes about 30 pills a day for his heart," Jason Lee said. "He stays inside most of the time."
Pobjoy said her father, usually a gentle man, had changed recently.
"For about three months, he hasn't been my dad," she said. "He turned hateful."
The "final straw," Pobjoy said, came this week. Paul Lee's vehicle, an old van, has been unusable for several months, and Lee couldn't afford to repair it.
So on Wednesday, Pobjoy said, her father rode a bicycle from his mobile home in the 1900 block of East 19th Street to a relative's home on New York Street. From there, she said, he walked all the way to Wakarusa Drive for a doctor's appointment.
The next day, Paul Lee walked into Firstar Bank.
"I guess he wanted to have a good Christmas, man," Jason Lee said. "He doesn't... deserve to go to prison.
"He ain't been able to buy his grandkids nothing for Christmas for a while. He buys them stuff just not what he wants."
The siblings said Lee, father of three and grandfather of six, has not had legal problems in the past. Area prosecutors said they were not familiar with him.
Lee was booked late Thursday afternoon into Douglas County Jail on suspicion of aggravated robbery, criminal threat and kidnapping, and held without bond until a court appearance. Officials said federal charges could be filed today.
Staff writers Mike Belt and Erwin Seba contributed to this report.
Copyright 2018 The Lawrence Journal-World. All rights reserved. This material may not be published, broadcast, rewritten or redistributed. We strive to uphold our values for every story published.