COLORADO SPRINGS, COLO. — Twice a day, Farouk Abushaban leaves his cubicle at Oracle Corp. and seeks out an empty conference room. A co-worker or two may join him, if they're not on the phone.
There is no talk of software or the Internet.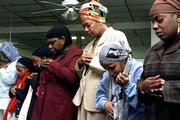 This is prayer time, when Abushaban and Muslims everywhere put their lives on hold and focus solely on Allah, or God. Muslims pray five times a day, and for Abushaban, two of those fall during work hours.
The scene is rare in Colorado Springs, where the Muslim population is small. But in the high-tech world here, the population of Muslims is more concentrated.
Abushaban, president of the Islamic Society of Colorado Springs, estimates one-quarter to one-half of the area's estimated 200 Muslims hold tech jobs.
Many came to the United States to study and stayed to take jobs. The group even has a nickname "muppies," or Muslim urban professionals.
Although the growth of Islam in the United States has resulted in several clashes over religious practices and dress in the workplace, the high-tech industry is generally viewed as a leader in accommodating believers.
That reputation will be put to the test as Muslims begin the holy month of Ramadan.
The holiday, which began Tuesday (or whenever the new moon was visible), commemorates the first revelation of the Koran, or Qur'an, to the prophet Muhammad. Muslims are required to abstain from indulgence of any sort food, drink or sexual activity during daylight hours.
In Colorado Springs, many tech companies allow Muslim workers to adjust their schedules to accommodate fasting during Ramadan. Many employers also allow Muslim employees to take time off for weekly Friday worship at the city's only mosque.
Some have or are considering setting up prayer rooms.
"Everyone knows me now, they know I'm Muslim, they know I pray five times a day," said Abushaban, a technical consultant at Oracle s Colorado Springs operation. "It's a good work atmosphere. You're expected to work like anyone else. The fact that you don't eat at certain times, it's almost transparent."
Protected by the law
The Civil Rights Act of 1964 requires companies to make reasonable accommodations for employees' religious practices and beliefs, unless it causes undue hardship.
Generally, companies must allow employees to take time off for religious holidays and wear religious attire, unless it poses a safety risk.
Varying interpretations of those rules, paired with the growing diversity of the labor market, has led to conflict.
According to the U.S. Equal Employment Opportunity Commission, religious discrimination claims nationwide jumped 30 percent from 1992 to 1999.
The cases ranged from a Muslim who fought a United Parcel Service ban on facial hair and won to a Catholic who wanted to wear a graphic anti-abortion button on the job, who lost because she wouldn't agree to a compromise.
Overall, the workplace climate for Muslims is improving, said Ibrahim Hooper, a spokesman with the Council on American-Islamic Relations in Washington, D.C.
When there are problems, "it's usually not institutional," Hooper said.
"It's usually some low-level manager practicing their personal prejudices.
"Once it's kicked up the line, accommodations are granted."
Bottom line: respect
An informal survey of a half-dozen local Muslim high-tech workers turned up more compliments than complaints.
Jihad Elsabeh, a network consultant at Compaq Computer Corp. in Colorado Springs, finds an empty office or conference room to pray where he won't be interrupted. For Ramadan last year, he was allowed to work through lunch and leave early because of his fasting.
A flexible work schedule also is the norm at WorldCom Inc.'s 3,000-employee Colorado Springs software development center.
On a recent Friday, three WorldCom employees took advantage of their flextime to attend services at the mosque.
Aiman Khammash, a WorldCom employee, said the approximately 20 Muslims at WorldCom may ask the company for a prayer room for Ramadan.
Rebecca Saltman, a WorldCom spokeswoman in Denver, said the company would likely honor such a request. Both WorldCom and Compaq offer two or more "floating" holidays employees can take for religious reasons.
Arshad Yousufi, an engineer at Agilent Technologies, said he also has a lot of flexibility with his work schedule. But he was disappointed two years ago when the company, then Hewlett-Packard, turned down his request for an all-faiths prayer room.
Agilent spokesman Bill Smith said the company has taken steps to accommodate Muslim workers. For example, it set aside prayer rooms for about 20 Malaysians who recently were in Colorado Springs for training. The company has a large manufacturing plant in Penang, Malaysia.
But even then, it was a struggle to find open rooms because space is so tight, Smith said. That was one reason Yousufi's suggestion was turned down, he said.
"There's always a balancing act," Smith said. "The overriding principle is respect of employees as individuals while still getting the business needs of the organization met."
Copyright 2018 The Lawrence Journal-World. All rights reserved. This material may not be published, broadcast, rewritten or redistributed. We strive to uphold our values for every story published.