Washington — Texas has failed to adequately care for the 1.5 million low-income children in its Medicaid program, a federal judge ruled, giving the state until October to find a solution.
The ruling lands in the middle of the presidential race, fueling Al Gore's argument that Texas Gov. George W. Bush has failed to provide health care to his state's children.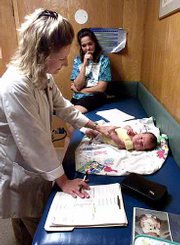 The court found that Texas was not adequately providing dental care, regular checkups, transportation to doctors or information about what services are available to children in Medicaid, despite a 1996 agreement in which the state promised to make major improvements in its program.
"A poor and often-isolated population should not be robbed of their rights to services," wrote U.S. District Judge William Wayne Justice, a Democrat who has issued sweeping rulings on racial segregation, education for immigrants and prison conditions since being appointed by President Johnson in 1968.
The Gore campaign wasted little time criticizing Bush.
"It's basically a sweeping indictment of the way George Bush has run his state's Medicaid system," Gore spokesman Mark Fabiani said. "No issue is more important to voters than health care."
Gore also complains that there are 1.4 million Texas children without health insurance and that Bush tried to limit eligibility for a new program aimed at getting insurance to the children in working poor families.
The Bush campaign said the governor is working to fix the problems in Medicaid and pointed the finger at the Democratic administration that preceded Bush, who was elected in 1994.
"This is a decadelong challenge that Texas is addressing," said Bush spokesman Dan Bartlett. "We are aggressively working to provide health care to those children."
The initial class-action lawsuit was filed in 1993. The state signed a consent decree promising change in 1996. On Aug. 14, the court issued a 175-page ruling that found the state had failed to fix its problems in the program, which serves about 1.5 million Texans ages 21 and under.
Advocates for the poor in Texas declined to blame Bush, but said he did not provide leadership when the system needed it.
"If you want to bring about change then you talk about it, you give speeches about it, you lay out proposals and you put your name on it and say 'this is my plan,"' said Lisa McGiffert, a health expert at Consumers Union in Austin, Texas.
"Bush can do it and has done it on tort reform and other issues," she said. "It would be great if he would do that with health."
Specifically, the court found Texas had failed to inform families about the benefits available -- even when they asked. About 1 million children never saw a dentist last year, and most who did were there for emergency treatment -- such as an inability to eat -- that could have been prevented.
It found major problems for children enrolled in health maintenance organizations and other managed care plans. Like other states, Texas is in the process of moving its Medicaid population into managed care, which is cheaper and has a reputation for providing strong preventive care.
But the court found that the checkups "were grossly inadequate and incomplete" -- taking just 12 to 20 minutes when a proper exam would take an hour. Fewer than 10 percent of children had received proper immunizations.
For poor families who don't own a car, getting to the doctor is often the most difficult part of getting health care, so Medicaid pays for transportation. The court found that Texans often were not reimbursed for months, could not get vouchers to which they were entitled, and spent entire days arranging and waiting for transportation.
"The burden this creates ... can be overwhelming," the judge wrote.
A toll-free number was established to give participants information about what preventive services are available, but the court found that it took a long time for anyone to answer the phone -- the record wait was 13 minutes and 2 seconds -- and the staff who did answer were "often unhelpful or lack knowledge."
The ruling also concluded that Texas failed to address the needs of about 13,200 abused and neglected children under state supervision.
The order will force the state to consider sweeping changes -- including higher payments to dentists and reconsideration of its managed care plan.
The judge's Aug. 14 ruling gives the Texas Health and Human Services Commission 60 days to prepare a plan of corrective action -- meaning it is due just weeks before Election Day.
Officials with the Texas Health and Human Services Commission, which oversees the Medicaid program, referred questions to the attorney general's office. Spokeswoman Andrea Horton said Wednesday the state has not decided whether to appeal.
Copyright 2018 The Associated Press. All rights reserved. This material may not be published, broadcast, rewritten or redistributed. We strive to uphold our values for every story published.