Given all the added significance Kansas University's football team has placed on its season opener with Southern Methodist, perhaps it's no surprise the Jayhawks haven't given much thought to what would happen should they falter.
"You don't even think about that," KU senior running back David Winbush said. "I mean, we don't think we're going to win because we won last year. Just because we beat them last year doesn't mean we'll beat them this year. But you can't go into the game thinking, 'What if we lose?'"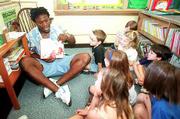 Rest assured, KU coach Terry Allen has pondered just that. He has pointed toward SMU as a must-win game since spring drills and reiterated the point numerous times through the preseason.
What's so significant about SMU?
For starters, Allen hopes it sets the tone for the season in terms of getting a win in the first week and in getting KU just its second road win in Allen's three-plus seasons.
And every nonconference game is important because Kansas needs a sweep to go into the Big 12 season with three of the NCAA-mandated six victories for bowl-eligibility. Should the Jayhawks stumble just once in the nonleague schedule, they'd need four Big 12 wins to go bowling. KU won only four Big 12 games in the past two years combined.
So, if a win would exercise the Jayhawks' road demons and start them on the road toward bowl-eligibility, what would a loss do?
"We've been there before," Allen said after his first weekly press conference of the season on Wednesday. "We've bottomed out before. We obviously could get beat on the road, but I'd rather run that race of trying to bounce back. These guys have exhibited resiliency to quitting. They don't quit, and we've got similar guys, similar attributes."
Winbush concurred that the 2000 season wouldn't end almost before it began with a loss Saturday. Kickoff for KU-SUM is 6 p.m. at brand-new Ford Stadium.
"Without a doubt, no," Winbush said. "We'd have a whole week to pick up the pieces. It wouldn't be the end of the world."
Given the import of the game, Allen can't help but be a little concerned to have his game-week practices shortened by the heat. He moved two practices from afternoon to evening to beat the heat.
"As a coach, you never want to shorten up your practices, but especially not for the first game, when turnovers and special teams and penalties get magnified," Allen said. "You're always trying to turn over every stone to make sure there's nothing under there, and, yes, it is a reason for concern."
In many ways, though, SMU is the perfect opening opponent. The Mustangs are beatable KU rallied from a 9-0 deficit to win 27-9 last season even if with a new offensive coordinator they'll be a changed team.
And that new-look, pass-happy offense plays into Kansas' plans to shore up a leaky pass defense that doomed the Jayhawks to a 5-7 season last year.
"We had a three-pronged approach to it," Allen said. "We felt we were pretty good inside with our safeties, but we needed to improve at cornerback. He hired a new secondary coach and changed our philosophy a little bit, and we're trying to get more of a pass rush. SMU is a good fit for that it's a good test for us."

Smith on watch list: KU senior quarterback Dylen Smith is one of 23 senior QB candidates for the Johnny Unitas Gold Arm Award, which is presented annually to the top senior college quarterback.

Upcoming: After Saturday's opener, the Jayhawks will take a bye week before playing host to Alabama-Birmingham on Sept. 16. Kickoff for KU-UAB is 6 p.m. at Memorial Stadium.
Copyright 2018 The Lawrence Journal-World. All rights reserved. This material may not be published, broadcast, rewritten or redistributed. We strive to uphold our values for every story published.