Douglas County Republicans have a new leader, and his name is Don Johnston.
Johnston, 66, was unanimously elected by voice vote in a strong showing of party unity during Wednesday night's Republican Central Committee reorganization meeting.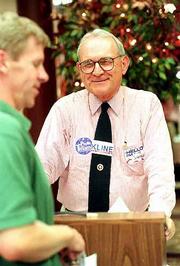 He replaces two-term chairman Jim Mullins, who decided not to run again.
"It's easy to say yes to help feed and water the elephant," Johnston said as he took charge of the meeting from Mullins after his election.
This year's reorganization meeting was a stark contrast to the last one two years ago, which was lengthy and raucous, party members said.
All other candidates were unopposed and were elected in unanimous voice votes. They are:
Vice Chairman Jane Eldredge.
Secretary E. Marie Meyen.
Treasurer Terry Jacobsen, the only one who was re-elected.
In addition, Republicans elected seven at large members of the Executive Committee: John Bush, James Dunn, Bill Penny, Sheila Weathers, Ned Cushing, Chris Miller and Craig Templeton.
Although no one wanted to officially acknowledge it, the changing of the local Republican guard seemed to indicate a shift of power to the moderates.
It came on the heels of a primary election that put moderates in control of 80 precinct committee positions compared to 40 for conservatives, Republicans said at the time.
"I think the voters sent a clear message," Templeton said.
Johnston, however, said he thought the new leadership and executive committee represent a mixture of moderates and conservatives. He described himself as a conservative moderate.
Johnston emphasized the need for area Republicans to work especially hard to elect Phill Kline to the 3rd District Congressional seat and defeat incumbent Democrat Dennis Moore.
"We need to show as much party unity as we can, now," he said.
Johnston, a member of the board of directors of Commerce Bank in Lawrence, has lived in Douglas County more than 20 years. A native of Pittsburg, he was chairman of the Crawford County Republican Party years ago.
He also ran for Congress in the old 5th District in southern Kansas, losing what he called "a squeaker" in a five-man Republican Primary.
Mullins said he decided not to run for re-election as chairman because two terms was enough.
"I'm still going to be working hard for Republicans," he said.
Copyright 2018 The Lawrence Journal-World. All rights reserved. This material may not be published, broadcast, rewritten or redistributed. We strive to uphold our values for every story published.