A new computer store is coming to town but leaving its products in the warehouse.
Gateway Inc. plans to open a Gateway Country computer store Sept. 29 at 3113 Nieder Road, between SuperTarget and Steak 'n Shake southwest of 31st and Iowa streets.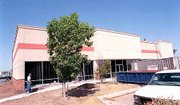 The 6,500-square-foot store will not have any computers, modems, monitors or disk drives in stock. Instead, it will put more than a dozen models on the sales floor for customers to "test drive," said Greg Lund, a Gateway spokesman.
Gateway Country employees help customers pick and choose what features they want in a system, which is delivered to the customer's home within a week.
"You get exactly what you want," Lund said. "And you don't get old equipment. Some retail stores might have a system in the back room that was made six months ago. When you order from Gateway, you get the latest equipment."
The Lawrence store will be one of 60 opened this year across the country. Gateway already has stores in Overland Park and Independence, Mo.
Lund said Gateway chose Lawrence because of its diverse economy, increasing population and tech-savvy residents.
"We're looking for locations that are good technology markets," said Lund, from corporate headquarters in San Diego. "Lawrence fits the bill in many ways."
The store also will have a service team, plus offer training programs to help people do everything from run a PC to create PowerPoint presentations or open Excel spread sheets.
Gateway is leasing the space from Lawrence CMP LLC, a Wichita investment group. David Hickman, who negotiated the lease for Gateway, estimated the project cost at $1 million.
The site made sense for Gateway because of its proximity to other national retailers, Hickman said. SuperTarget, Wal-Mart, Kohl's, Kmart, Sears, Roebuck and Co. and J.C. Penney Co. Inc. all have bigger stores along the South Iowa corridor.
"It's a great statement for the community that they chose this market to expand into," said Hickman, first vice president for CB Richard Ellis in Kansas City, Mo. "There are a lot of markets that they can consider at this point."
Gateway Inc., which was created in 1985 as a two-person startup in an Iowa farmhouse, today is an $8.6 billion, Fortune 250 company with 20,000 employees worldwide. It has about 300 Gateway Country stores in the United States.
Christian Ablah, a Lawrence CMP partner, said 1,500 square feet remained available for lease in the building, alongside Gateway.
"It could be a hair salon, insurance agent, sandwich shop or anything," said Ablah, a commercial real estate broker in Wichita.
Copyright 2018 The Lawrence Journal-World. All rights reserved. This material may not be published, broadcast, rewritten or redistributed. We strive to uphold our values for every story published.