Wichita — Sizzling heat has already withered most of the Kansas soybean crop. Across the state, farmers rush to harvest their deteriorating corn and sorghum fields -- baked by triple-digit temperatures and no rain.
Cattlemen have moved their livestock off dusty pastures, and some have begun feeding their winter supplies of hay.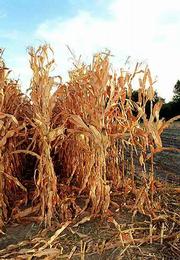 And now a gnawing unease is building among Kansas wheat growers that the 2001 wheat crop also is threatened. By this time, Kansas farmers would normally be preparing seed beds they will use to plant the winter wheat crop this fall -- but it is too dry to risk turning the soil and losing what precious little moisture is left.
That would expose their fields to wind erosion -- and the images of the Dust Bowl days seem perhaps more vivid nowadays as temperatures approach records set in the dirty 1930s, when massive dust clouds rolled across the state.
On Wednesday, the Kansas Association of Wheat Growers joined the growing clamor in Kansas farm country for federal disaster aid.
"Pastures are drying up, late planted fall crops are shriveling up, and its impossible to prepare seed beds for fall wheat planting," Brett Myers, executive vice president of the KAWG, said in issuing the formal call for drought aid.
The wheat growers are pulling their ranks behind U.S. Rep. Jerry Moran's proposal to include additional assistance for farmers in drought-stricken areas of Kansas in the annual funding bill of the U.S. Department of Agriculture.
On Aug. 17, Moran urged the chairmen of the House and Senate agriculture appropriations subcommittees to add two emergency provisions for Kansas farmers.
One would provide $450 million for crop production losses, and the other $450 million under the Livestock Assistance Program for producers whose hay and forage production has suffered.
Last week, Gov. Bill Graves asked for a federal disaster declaration for six counties where crops and livestock have suffered heavily from heat and drought.
If the request is granted by U.S. Secretary of Agriculture Dan Glickman, it would makes farmers and ranchers in those counties eligible for low-interest emergency loans from the federal government.
The six counties are Cheyenne, Decatur, Jewell, Phillips, Republic and Washington. If the request is approved, 14 counties that adjoin the six would be included. They are: Clay, Cloud, Graham, Marshall, Mitchell, Norton, Osborne, Rawlins, Riley, Rooks, Sheridan, Sherman, Smith and Thomas counties.
For its part, the Kansas Agricultural Statistics Service is now surveying farmers to get an overview for how crops are faring in Kansas. That crop production report will not come out until Sept. 12.
"The potential is there, for sure, in terms of being a disaster for several commodities. I just don't know about the timing," state statistician Eddie Wells said. "Time continues to pass. Are we out of time? That is the question."
Wells said one indication of conditions is subsoil moisture levels, since topsoil moisture conditions can change rapidly with one good rainfall.
"There is a reason to be concerned with 83 percent of the state reporting short to very short (subsoil moisture). The reserves are not there practically across the state," he said. "It is a question of timing at this point: how much life is left in the sorghum and soybean plant for it to be able to produce?"
In the southeast Kansas community of Columbus, farmer Ron Westervelt has harvested an excellent crop of corn and an above-average sorghum harvest, both planted in April. The winter wheat crop he cut off his fields in July was also a bountiful.
But he can do little now but watch his 700 acres of soybeans -- half of his planted fall crops -- wither in the unrelenting heat. In another week, he figures all his soybeans will be lost.
Unlike many other Kansas farmers, he is reluctant to mow the soybean crop and bale it for hay -- saying he might jeopardize his crop insurance payment if he gives up on it too soon.
"It will hurt because insurance is only going to cover expenses. It will allow you to farm next year, but it takes all the profit out," he said. "It just keeps you going. Insurance doesn't guarantee a profit."
That insurance -- together with the good harvest on the other crops -- will allow him to continue farming next year.
"But there won't be any new pickups or anything like that, and Christmas might be a little short this year," he said.
Westervelt is not worried yet about whether there will be enough moisture in the ground when he gets around to planting his winter wheat crop.
"We don't seed here until the first or second week of October," he said. "I'll worry about that later."
Copyright 2018 The Associated Press. All rights reserved. This material may not be published, broadcast, rewritten or redistributed. We strive to uphold our values for every story published.