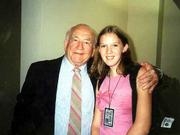 Alyssa Buecker, Lawrence, creator of the "Carrot Wars" film featuring guinea pigs, has had a busy summer.
Her film had its big screen premiere earlier this month at the Fox Theatre in Hutchinson. The film won a first place award at the KAN Film Festival 2000 and was selected to be screened at the Brooklyn Arts Council's 34th International Film and Video Festival in New York City this past June.
"Carrot Wars" was also selected to be screened at the Kansas Connection's Film Fair in late July at DreamWorks Studio, Hollywood. Alyssa, who is a home-schooled sophomore, toured several animation studios while she was in southern California including the Disney Studio, where she was allowed to hold the Academy Award Walt Disney won for "Snow White."
Videotapes of "Carrot Wars" will soon be available to the public.

---
More:
http://hometown.aol.com/guineapigfilms
Copyright 2018 The Lawrence Journal-World. All rights reserved. This material may not be published, broadcast, rewritten or redistributed. We strive to uphold our values for every story published.