Topeka — Kansas' welfare reform polices are hurting thousands of children whose parents are trapped in low-paying jobs, according to a study released Tuesday by a coalition of advocacy groups.
"As a state, we haven't done near enough to help families going off public assistance move from minimum-wage jobs into jobs that pay enough to make ends meet," said Paul Johnson of rural Perry, an advocate for the poor.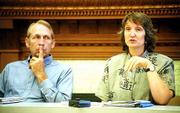 Besides such families single mothers with small children, mostly now being short of cash, they've also been dropped from the state's food-stamp and health-care programs, Johnson said.
A recent survey found that 38 percent of families dropped from the state's welfare rolls have sought help from area food pantries; 26 percent reported at least one family member had gone without food for an entire day within a 30-day period.
Anecdotal evidence
The figures came as no surprise to Dave Cade, director of Lawrence's Pelathe Community Resource Center.
"We're seeing more and more clients like that every day, Cade said. "They're putting a very high demand on our food pantry, and demand for affordable housing is probably as high as it's ever been."
Records show participation in the state's food-stamp program has dropped from 72,795 individuals in 1996 to 50,804 individuals so far this year.
"It's important to remember that one-third of the people we're talking about here are children," said Johnson, director of the Public Assistance Coalition of Kansas.
Sponsored by Kansas Action for Children and the United Way Association of Kansas, the report urged the state Department of Social and Rehabilitation Services to:
Make sure parents leaving the state's cash assistance program understand that their children probably remain eligible for food-stamp and health-care benefits.
Find out why more low-income families do not take advantage of the state's willingness to help pay for child care.
Increase payments to families receiving cash assistance.
Increase job-training efforts.
Shortchanging the poor
Johnson accused SRS of shortchanging low-income families by using welfare reform funds to underwrite privatization of the state's foster care system.
For each of the past two years, SRS has used more than $47 million in federal welfare reform funds to pay for foster care.
The money, Johnson said, should have been spent on programs aimed at helping low-income parents find and keep better paying jobs.
"It hasn't gone for what it was intended for," he said.
Carol Smith, director of research at United Community Services in Johnson County, said participation in SRS' job training programs was embarrassingly low.
"Our study found that out of about 9,000 adults now on cash assistance, only 117 are in any kind of vocational or skill-specific training," Smith said. "That's not very many."
But SRS Secretary Janet Schalansky said it's unfair to say the money is being misspent when federal guidelines say it's for services aimed at keeping families together.
"If preventing a child from going into foster care or helping a child return home after being in foster care isn't keeping families together, I don't know what is," Schalansky said.
She noted that SRS had adopted several policies aimed at sustaining low-income parents during their quest for better paying jobs.
"Should we be doing more? In the social service arena, you can always do more," Schalansky said.
Legislative issue
Gary Brunk, executive director at Kansas Action for Children, said SRS should press lawmakers for other funds for foster care.
"If we had our priorities straight, we would be using our welfare reform dollars to support our low-income families achieve self-sufficiency," Brunk said. "We shouldn't be asked to choose between child welfare and welfare reform; both need to be supported.
"We see this as an issue that policy-makers need to grapple with."
Both sides agreed that much of the problem is due to families wanting nothing more to do with SRS after landing a job.
"There's quite a bit of heady excitement when you're finally in a position to say, 'Oh, I have a job. Now I can get my family off welfare,'" Smith said.
"Unfortunately, our society places quite a bit of stigma on being on public assistance. So if things don't work out, there's a strong resistance to going back to SRS."
Also, Smith said, the food-stamp program is not "family friendly," noting that working families are ineligible if they own an automobile worth more than $4,650.
"It's a challenge to all of us in our communities to say, 'It's OK to use these programs, that's what they're there for.'"
Copyright 2018 The Lawrence Journal-World. All rights reserved. This material may not be published, broadcast, rewritten or redistributed. We strive to uphold our values for every story published.