It takes a drive in the country to really see the effects of the scorching weather on plants, says Bruce Chladny, Douglas County horticulture extension agent.
That's where the hedgerows of oak, Osage orange and hackberry appear pale yellow instead of their usual lush green.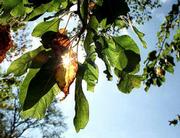 "When you've got native trees that have survived years of abuse and neglect starting to show signs of stress," Chladny said, "then you know that's drought."
The heat that has cranked up air-conditioning bills and set residents grumbling is taking a toll on area lawns and gardens and trees.
Even though Tuesday's high didn't reach past the century mark Lawrence topped out at 96 degrees the effects of a dry, hot stretch is in evidence everywhere.
Much of the grass in the area has yellowed and stopped growing. Trees and shrubs are wilting or dropping their leaves as if it were fall.
But there is no reason to assume Lawrence will go from Tree City U.S.A. to dust bowl in one year, assured Brian Boyce, nursery manager at Sunrise Garden Center, 15th and New York streets. And the extent of damage can't be known until next spring.
"It's too early to throw up our hands in despair," Boyce said.
The city's foliage survived July 1980, when only two of 21 days saw temperatures that didn't exceed 100 degrees and just 1.8 inches of rain fell, Boyce said.
"We lived through that, and we'll live through this one," he said.
There are ways to increase your plants' chances of survival.
Boyce said trees and shrubs should be watered once a week as a rule, though soil type could make a difference in the required frequency. Sandy soil may need water more often than clay soils.
* Trees and shrubs should be watered once a week, though soil-type could make a difference.* Let a hose run at a trickle at the base of the tree or shrub.* Cool-season grasses like fescue, bluegrass and rye go dormant in extreme conditions. Once they've done so, don't bother watering.* If your lawn is still green, water early in the morning and don't put more than 1 1/2 inches of water down a week.* For more information on water conservation and lawn care, contact the Douglas Coutny Extension Service at (785) 843-7058, or visit
www.oznet.ksu.edu
Ann Peuser, owner of Clinton Parkway Nursery, suggested allowing a garden hose to run at what she termed "an annoying drip" all night at the base of a tree. That is preferable to watering for just a short period each evening, Peuser said.
The cool-season grasses like fescue, bluegrass and rye grass will go dormant in extreme conditions, Chladny said. Once they've done so, he does not recommend watering unless it will continue on a regular basis.
"By watering it just a little bit and letting it dry out you really are doing more damage than good," he said. "If you are going to water it, keep watering it all summer."
Instead, Chladny suggests waiting a few weeks until the cool weather returns and then assessing the damage.
Peuser said enough water should be applied to lawns to keep the ground from cracking.
Because of the parched conditions, Chladny said homeowners should delay for at least three more weeks the overseeding and fertilizing of lawns that usually would be done beginning this weekend.
"The next three or four weeks will be a good indication of what is going to happen," he said. "Right now our grass is going to try to survive as we are."
Peuser said the long-terms effects of this summer would depend on the answers to several questions: How much longer will the heat last? When and how much rain will be received? And how cold and dry will the winter be?
"If we have a mild winter or some good moisture, it may be fine," Peuser said.
Unfortunately, the answers won't come until spring, Chladny said. That's when the damage or lack of it will become apparent.
"(Some vegetation) may not come out of winter time," he said. "That's going to be the shame of it."
Outdoors* Water lawns in early morning; avoid overwatering.* Mulch flowers, shrubs and gardens to reduce evaporation.* Use low- or no-water landscaping.Kitchen* Keep drinking water in refrigerator to avoid running the tap for cold water.* Shut off water at the sink. Often, a stoppered sink, bowl or pan of water will work when preparing foods or rinsing dishes.* Run full loads in the dishwasher.* Wash small quantities of dishes by hand in shallow water in the sink.Laundry* Wash only full loads.Bathroom* Turn off water while brushing teeth, shaving or shampooing.* Take short showers rather than baths.* Repair leaks in sinks or toilets.
Copyright 2018 The Lawrence Journal-World. All rights reserved. This material may not be published, broadcast, rewritten or redistributed. We strive to uphold our values for every story published.