A rollover Tuesday evening on U.S. Highway 40 west of Lawrence sent a Topeka woman to the Kansas University Medical Center by helicopter.
Lawrence-Douglas County Fire & Medical workers responded shortly before 7 p.m. to a report of an accident just north of the Kanwaka Corner intersection of U.S. 40 and N1600 Road. Battalion Chief Rob Kort said more than a dozen motorists and neighbors reported the accident.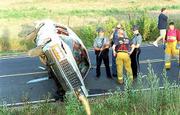 Joyce Tavernaro, 52, Topeka, and Dana J. Trogeson, 36, Tecumseh, were riding in the car that rolled over and wound up on its side in the eastbound lane of the highway. Highway Patrol investigators did not have a report available late Tuesday and were unsure who was driving at the time of the single-vehicle accident.
Kort said he thought Tavernaro was ejected from the car, and she was flown by Lifestar helicopter to KU Med Center. Officials there said a condition report was not available late Tuesday night. Trogeson was transported by ambulance to Stormont-Vail Hospital in Topeka, where he was treated and released.
About a one-mile stretch of the road was closed to traffic for nearly an hour as emergency workers and authorities treated patients and investigated.
Two Lawrence-Douglas County ambulances responded as did two fire and medical units from nearby Lecompton and Tecumseh.
Copyright 2018 The Lawrence Journal-World. All rights reserved. This material may not be published, broadcast, rewritten or redistributed. We strive to uphold our values for every story published.