Lima, Peru — More than four years after hooded military judges convicted American Lori Berenson of planning a rebel attack raising an outcry from Washington Peru's military overturned her life sentence and cleared the way for a new civilian trial, officials said Monday.
The 30-year-old New York native was found guilty of treason by the secret tribunal in January 1996 for allegedly helping the Tupac Amaru Revolutionary Movement plan an attack on Peru's Congress. The attack was foiled by Peruvian authorities.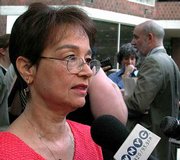 The tribunal released a statement to The Associated Press saying that Berenson's sentence was overturned on Aug. 18 and her case was passed to a civilian court on Thursday.
First public word of the decision came earlier in the day in a statement from Berenson's defense attorney, Grimaldo Achahui, on Radioprogramas, Peru's leading station. He said she would remain imprisoned pending the new trial.
Berenson's case has been a sore point in U.S. relations with Peru. Washington has repeatedly pressed for a new trial, saying the secret nature of the court violated her rights. The U.S. government has also criticized as too harsh the living conditions she has reportedly been held under in Peruvian prisons.
Her parents have also led a campaign for her release that has raised international concern over the case.
"Peru has now admitted that Lori Berenson was not a leader of the MRTA. It knows she was not even a member," her father, Mark Berenson, said at a news conference in New York. "There is no basis in truth, or law, for holding Lori another day."
Also at the conference was her mother, Rhonda, and their legal adviser in the case, former U.S. Atty. Ramsey Clark.
Though Berenson has maintained her innocence, Peruvians caught in the crossfire of rebel violence during the 1980s and early 1990s have a difficult time sympathizing with her. She has been vilified by government officials and the media for her alleged involvement with the rebels a violent leftist group best known for its invasion of the Japanese ambassador's residence in Lima in December 1996.
The rebels held 72 hostages for four months before Fujimori ordered a bold rescue that saved all but one of the hostages. All of the guerrillas were killed.
Before her conviction, Berenson was presented to the news media in a wild spectacle during which she angrily screamed support for Peru's poor and shouted, "There are no criminal terrorists in the MRTA," referring to the rebel group. "It is a revolutionary movement."
The statement was considered by most Peruvians to be an admission of guilt.
Copyright 2018 The Associated Press. All rights reserved. This material may not be published, broadcast, rewritten or redistributed. We strive to uphold our values for every story published.