Topeka — How to best implement proposed water quality standards was the topic of discussion Tuesday among federal regulators, state officials and about 35 legislators.
Farmers and state officials have expressed concerns about the proposed regulations from the federal Environmental Protection Agency.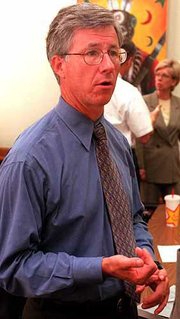 One bone of contention is an EPA proposal to require the state to regulate privately owned lakes and ponds.
The EPA also wants to require the state to justify its decision to designate more than 1,400 lakes and streams as "secondary" waters, meaning they're not meant for swimming or fishing and fall under less stringent standards.
EPA officials will have public hearings on the proposed regulations Sept. 13 in Topeka and Sept. 14 in Dodge City.
After Tuesday's meeting, several legislators said they were optimistic that the EPA was willing to work with the state to make implementation of the standards as painless as possible.
"The folks from EPA seem to be trying to work with us," said Senate Agriculture Chairman Steve Morris, R-Hugoton. "They're trying to work out a solution with us so there's not a lot of heartburn in working this out."
Geoffrey Grubbs, director of the EPA's Office of Science and Technology, said his agency is trying to cooperate with state officials as much as possible, but it also must enforce federal laws.
"We have a responsibility to make sure that what Kansas does -- like every other state in the country -- meets the minimum standards established by the Clean Water Act," Grubbs said.
Rep. Bruce Larkin, D-Baileyville, said the state could sue the EPA if they can't work out an agreement.
Agriculture Secretary Jamie Clover Adams said a lawsuit would only be a last resort. Adams said she plans to ask the EPA not to designate bodies of water as suitable for swimming or fishing if they are less than 18 inches deep.
Although Adams said the meeting was a good starting point for discussions, she tempered her optimism about reaching a satisfactory agreement with the EPA.
"Their track record for flexibility isn't very good," she said.
The EPA agreed to write new water quality regulations as the result of a settlement of a 1999 lawsuit filed by the Sierra Club and the Kansas Natural Resource Council.
Charles Benjamin, an attorney for the state chapter of the Sierra Club, said the national group will file another lawsuit if the EPA does not implement the regulations within 90 days of publishing them on July 3, as required.
Benjamin said his group simply wants the state to follow the Clean Water Act.
"The state's supposed to comply with the law," Benjamin said. "Federal law trumps state law."
---
More: www.epa.gov/region07/
Copyright 2018 The Associated Press. All rights reserved. This material may not be published, broadcast, rewritten or redistributed. We strive to uphold our values for every story published.