Call it the Chi Omega dry concrete bowl until further notice.
The Chi Omega Fountain is being turned off along with other fountains on the Kansas University campus as the university reduces water usage to help Lawrence avoid rationing or water rate increases.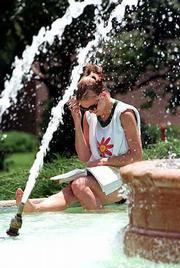 Provost David Shulenburger announced the fountain shutoff to KU administrators in a memo Tuesday afternoon.
Fountains at Murphy Hall, scholarship halls and Continuing Education also were ordered shut down by Shulenburger.
Other actions ordered by the memo include shutting down various lawn sprinklers around the campus, vigorous reporting of leaks and asking residents of campus housing to turn the water off while shampooing their hair and brushing their teeth.
And Facilities Operations trucks and other university vehicles will go unwashed.
Copyright 2018 The Lawrence Journal-World. All rights reserved. This material may not be published, broadcast, rewritten or redistributed. We strive to uphold our values for every story published.