Too hot off the grill
When barbecuing, don't burn the food or yourself. The National Fire Protection Assn. says 2,000 gas grills catch fire each year, seriously injuring some 300 people. And thousands of others suffer minor burns from barbecuing.
Keep children away from grills, wear flame resistant clothing, use proper lighting methods, don't peek in to see if a grill is lit, don't use a cigarette lighter to start a charcoal grill and never pour starter fluid on charcoal that's already lit, says Richard O'Brien, a Scranton, Pa., emergency medicine specialist and adviser to the makers of New-Skin burn, wound and blister dressings.
Propose a toast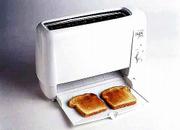 Could jumping toast become a thing of the past, relegated to the comics page? West Bend's new Slide Thru toaster is cool to the touch and has a setting for waffles. It accommodates two slices at a time and has a removable tray to catch the toast and then serve.
New-age supermarkets
Answering the call of consumers, mainstream supermarkets increasingly are offering a wide range of health foods, organically grown produce and even aromatherapy and homeopathic remedies and exercise equipment. "The bottom line is profit," says Barry Janoff, senior editor at Progressive Grocer, a monthly trade publication. "Supermarkets aren't doing this because they know it's better to eat healthy foods; they want a piece of it."
The grate way to go
Kuhn Rikon's new Parmesan cheese/chocolate grater brings a new look to a traditional tool. The flat, stainless steel surface produces very fine shavings of hard cheese or chocolate and also keeps fingertips safe.
Mustache cups
You can take the "Got Milk?" ad campaign into your kitchen and onto the table with a new line of dinnerware items featuring classic images from the series. They're available at national retailers, including Lechter's, Target and Bed Bath & Beyond.
Copyright 2018 The Lawrence Journal-World. All rights reserved. This material may not be published, broadcast, rewritten or redistributed. We strive to uphold our values for every story published.