Susan Herrmann Loomis knows her way around farmhouse cooking. A seasoned cookbook author, Loomis wrote the "Farmhouse Cookbook" (1991) and "French Farmhouse Cookbook" (1996).
Now she has taken on the cuisine of Italy's countryside with "Italian Farmhouse Cookbook" (Workman, $28.95 hardback, $16.95 paperback).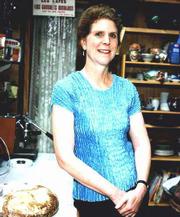 At 460 pages, it's a book to pick up when you are dreaming of a mini-escape to Italy. You can read a few recipes, and at the same time have a brief visit with a farmer or two.
Each recipe has a long headnote describing not only the dish but also the individual who came up with it. Boxes beside the recipes add comments on relevant characteristics of Italian cooking.
In her introduction, the American-born food writer offers general insights into Italian farmhouse life and cooking, researched during extensive travels. Loomis lives year-round with her family in Normandy, France.
"One aspect of the Italian rural landscape I found particularly alluring is the deliciously faded colors and fanciful architecture of even the simplest farmhouse," Loomis says.
But, she notes, "Italy can be aesthetically challenging too, particularly in the south where cinderblock monstrosities rear their heads next to lush vegetation, homes, or monuments, their cheap ugliness begun and never completed because of some clever political machination."
Loomis has found that alternative farming practices ranging from organic to biodynamic thrive in Italy. She notices that many of Italy's rural communities have remained underdeveloped, lacking money to buy synthetic chemicals and hybrid seeds. This means that pure fruit and vegetable strains are common.
Each region of Italy has a very specific style of cuisine, Loomis points out.
"Generally speaking, Italy can be divided by its butter and cream half -- the North -- and its olive oil half -- the South. It is also divided by corn and wheat. In the North, corn rules, while in the South, wheat is king. Another dividing line is by color -- the sauces in the North tend to be white (without tomatoes) while those in the South are red (with tomatoes), though one finds some of both everywhere. Staying with general observations, bread improves and flavors become more gutsy and spicy as one moves south."
"Generally speaking, Italy can be divided by its butter and cream half the North and its olive oil half the South."author Susan Herrmann Loomis
Danilo Barroncini and Susan Lord contribute wine recommendations to the book, suggesting pairings with the recipes.
I tried several recipes from the book, and think the key to their success is that the ingredients used be farm-fresh. One such dish is Antonella DiRosolini's Lush Tomato Salad. In this recipe, cherry tomatoes and chopped regular tomatoes are flavored with capers, onion, flat-leaf parsley and basil.
I tested the recipe before the height of the tomato season and it was a little flat. If you are using juicy, fresh tomatoes, the herbs and capers should be enough.
Note that this recipe serves eight to 10, so you should start with a very big bowl; it would also be easy to cut the recipe in half. Loomis adds pepper to the recipe, but comments that pepper is generally superfluous when you use basil.
Green Beans with Pancetta is a three-ingredient recipe that elevates green beans into a gutsy side dish. A splash of vinegar adds a pleasing tang.
My favorite recipe is Tuscan Wild Boar Stew, which uses pork -- unless you happen to have some wild boar handy! This is a dish that is typical of the region; during hunting season it is made with the wild boar that run rampant in much of Italy.
This thick, hearty stew smells absolutely delicious as it cooks. Served over garlic-scented slices of country-style bread, it is a soul-satisfying recipe that I plan to make again when the weather starts to turn cold.
Copyright 2018 The Lawrence Journal-World. All rights reserved. This material may not be published, broadcast, rewritten or redistributed. We strive to uphold our values for every story published.