Nearly two-thirds of the Kansas soybean crop has already been lost, withered by an unrelenting heat wave that destroyed what once promised to be a record harvest, said Dennis Morrice, executive director of the Kansas Soybean Assn.
All the soybean crop in northern Kansas essentially is gone, he said, and only late-planted soybeans in southern Kansas may yet make a crop and that's only if they get a substantial rain of more than two inches, and soon.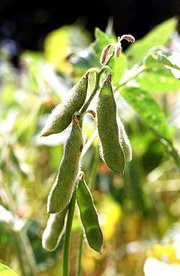 "Within the next 10 days or more, there won't be anything to harvest in Kansas as far as a soybean crop," Morrice said. "We won't have any."
Only last month, Kansas farmers were expecting a bumper crop. The 2.9 million acres of soybeans planted this spring set a record for the state.
This spring, soybeans were considered the No. 1 crop in Douglas County, with more acres planted than for corn, wheat and milo combined.
Not anymore.
"They're dying," said Mark Wulfkuhle, whose 500 acres of soybeans are shriveling south of Stull. "It doesn't look very good. Everyday it's 100 degrees, and they haven't had a drink of water. They're losing bushels. We've probably cut our yields to half so far. By harvest time it'll be down to a third."
Translation: A crop that had been expected to grow healthy returns could end up costing the farmer anywhere from $5,000 to $30,000.
"That doesn't pay the bills," Wulfkuhle said, noting that booming crops in Iowa, Illinois and other northern states would keep soybean prices low. "Farmers always hope that there's a drought everywhere but their place. It's just part of farming. It's kind of a crap shoot."
Soybeans most which are now setting pods have been the most vulnerable of the Kansas crops to seemingly unending days of triple-digit temperatures that have hit the state during much of August.
Only double-cropped soybeans, planted in July after wheat harvest, have not yet reached their reproductive stage and might make soybeans if they get some rain in time.
But time is running out.
By next week, three-fourths of the state's soybean crop will be gone if it does not rain, Morrice said. By Tuesday, it could all be gone.
"There are going to be a lot of farmers that are really going to be hurting financially this year," he said. "Kansas farmers are going to be in the worst possible scenario."
That's because market prices are low as the rest of the nation, and the world, produces an abundant crop, he said. Making it worse is the fact that the loan deficiency program a government program designed to help farmers hurt by low market prices is based on crop yields, and Kansas farmers likely won't have any yields to show.
Wufkuhle's take: "We're getting hit with a double whammy," he said.
The dismal numbers already are showing up in reports from Kansas Agricultural Statistics Service, which said the condition of major crops continued to decline.
Worst hit were the state's soybeans, KASS said. Just 28 percent of the crop was ranked in good or excellent condition a drop of 15 percentage points from a week ago.
Copyright 2018 The Lawrence Journal-World. All rights reserved. This material may not be published, broadcast, rewritten or redistributed. We strive to uphold our values for every story published.