The Lawrence school board is juggling a promise to district voters and a desire to help youngsters at a burned-out private school.
At issue is use of the district's old administration headquarters at 3705 Clinton Parkway.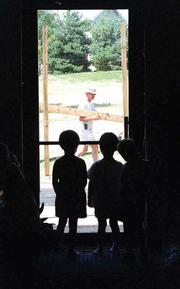 The board had promised taxpayers it would work to sell the building for $978,000 as soon as possible to replenish a fund tapped last year to help pay for the new $4.1 million administration complex at 110 McDonald Drive.
But there has been no rush to take the property off the district's hands.
"Nobody is knocking on our door," said board member Leni Salkind.
But board members heard plenty from supporters of Raintree Montessori School. Advocates sent dozens of letters and e-mails, backed by telephone calls, to persuade the board to lend a hand to Raintree, whose preschool and kindergarten building at 4601 Clinton Parkway was destroyed by fire Aug. 10. The blazed caused about $1.5 million in damage.
To serve the school's 160 students, Raintree remodeled parts of the district's old administration building, signed a one-month lease and resumed classes Aug. 22. The school's elementary students still attend classes on Raintree's campus.
Monday night, the school board voted 6-0 to approve the framework of a one-year lease with Raintree. The agreement is expected to contain a clause that allows the district to evict Raintree with 60 days notice upon sale of the property.
Lleanna McReynolds, who has owned Raintree with her husband, Keith, for 22 years, said she appreciated the board's willingness to enter into a longer-term lease.
Other companies had inquired about leasing the property but were rebuffed by the district.
"We are grateful and in awe of their commitment to children not in their schools. They do put all children first," McReynolds said.
She said Raintree had sought a one-year lease with an option to buy.
Board member James Hilliard said the effort to assist Raintree shouldn't undermine the district's campaign to sell the property. The district must have an escape clause in the contract, he said.
"We need that provision in there to protect our interests," Hilliard said.
Expenditure of district capital-outlay funds to buy the 110 McDonald Drive property hinged on the board's pledge to sell the India School and administration building properties to replenish the fund.
After some wrangling, the India School deal was completed.
Board member Scott Morgan said the capital outlay fund would drop to the unacceptably low level of $500,000 without sale of the building now used by Raintree.
However, board colleague Jack Davidson said previous board decisions weren't set in concrete.
"The board can change its mind on this," he said.
Board member Mary Loveland offered an alternative: Grant a nine-month lease with no provision that compels Raintree to move out if the building is sold.
"What I'm offering is more secure," she said.
Loveland said the arrangement would give the school district time to study its overall facilities needs. It's possible the district might want to pull the old administration building off the market, she said.
After Loveland's alternative failed to garner support, she sided with the majority to seek a one-year lease and 60-day notice.
The board is expected to take final action on a contract with Raintree on Sept. 11.
Copyright 2018 The Lawrence Journal-World. All rights reserved. This material may not be published, broadcast, rewritten or redistributed. We strive to uphold our values for every story published.