You can argue all you want whether Keith Moon was rock's greatest drummer or its sloppiest -- or both. But there's no debating that he was one of the most colorful men to ever whack a high-hat.
Moon's bizarre sense of humor and outlandish behavior (like driving cars into hotel swimming pools) attracted as much attention as his brash, unpredictable drum work. He went through life like some comic movie character before dying in 1978 from a drug overdose.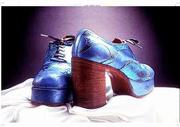 And that begs the question: Why hasn't a film been made about the legendary "Moon the Loon"?
"I've been working on one for 10 years, and it's incredibly difficult to get good scripts," says Who lead singer Roger Daltrey. "I keep dumping scripts one after another, and I'll keep doing that until I get one that really reflects the man that I knew and loved, one that reflects both his genius and his failings."
If Daltrey gets his way, the Moon movie will have a feel similar to Alex Cox's dark and moving "Sid & Nancy," which the singer calls ''the only really good rock film ever made."
"If you tell people, 'We're making Keith Moon into a movie,' they're like 'Oh, that'll be great -- it'll be really funny.' But it can't just be a funny story, and what's lacking in all the scripts I've read are depth of character.
"He was one of the most enormous human beings I've ever met in my life in every sense of the word. He was the most generous, the most funny, and also sometimes the most cynical, depressed person. He was a man of complete opposites -- and in extraordinary amounts ... Moon was a roller coaster, and that's why I think it'll make an interesting film."
Copyright 2018 The Lawrence Journal-World. All rights reserved. This material may not be published, broadcast, rewritten or redistributed. We strive to uphold our values for every story published.