Kansas Third District congressional candidate Phill Kline on Tuesday came to Kansas University to seek the support of the College Republicans and pledge to "build a better tomorrow."
Kline, the GOP nominee, spoke of his childhood and his persevering mother to explain his belief in the party's concerns.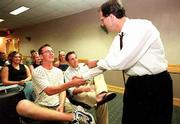 "I got the political bug in 1964, when my mother became a single parent. She had four children, was pregnant with a fifth, and she was 27," he said. "What she did, instead of turning to the government, was she rolled up her sleeves and applied her talents and skills to building a better future for us."
Kline said he supports traditional Republican ideals: smaller government, local control of schools and lower taxes. These goals, he said, would allow young people to find success.
"I do not presume I am any more intelligent than any of you," he said. "I believe you will find ways to live those great dreams you have, if we protect and preserve your freedom to do so."
In addressing the group and answering questions, Kline plugged for Texas Gov. George W. Bush's presidential run, saying he met Tuesday with GOP vice presidential nominee Dick Cheney, who stopped in Kansas City, Mo. Kline went on to criticize his November opponent, Rep. Dennis Moore, D-Kan.
"Campaigns have become about fear and false hope," Kline said. "Dennis Moore is not a demon. He is not a bad man, but he does have a failed philosophy."
Suggesting that political action committees contributed the bulk of the incumbent's war chest, he lambasted Moore's fund-raising. As Kline discussed campaign finance reform, he advocated the elimination of PAC contributions and raising the individual donation limit.
"He was PAC-man before Atari invented the game," Kline said.
For the more than 50 KU students, Kline countered potential criticism of his higher education voting record.
"When I was chair of the (Kansas House) appropriations committee, the regents had their best years. That's a fact," he said. "I need your help. Not only do I need it, but your children need it; this nation needs it."
Copyright 2018 The Lawrence Journal-World. All rights reserved. This material may not be published, broadcast, rewritten or redistributed. We strive to uphold our values for every story published.