Car fire destroys vehicle in new KU parking garage
One car was destroyed and at least one other heavily damaged by a fire about 11 a.m. Tuesday in Kansas University's new parking garage.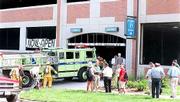 Firefighters found a Mercury Cougar ablaze when they arrived at the scene, 1261 Oread Ave. A Chevrolet Blazer next to the burning car also was damaged.
"They wouldn't let me look at it," said Emily Derusseau, a senior in the College of Liberal Arts and Sciences who owns the Blazer. "They told me it was undriveable and I'd have to wait."
Drivers trying to leave the garage were delayed for about two hours, said Ranjit Arab, a KU spokesman. The delay occurred while KU officials took the license numbers of every vehicle in the garage for use in checking future damage claims.
Arab said the fire caused no damage to the $7.5-million garage, which opened for business earlier this month.
Hearing set
Pomona resident charged in stabbing of roommate
A Pomona woman will appear Friday for a preliminary hearing in connection with the stabbing death last week of a Pomona man she lived with.
Sharon M. Ferrell, 37, was charged Monday in Franklin County District Court with second-degree murder in the death of William M. "Mike" Coulter.
Franklin County Sheriff's Capt. Kevin Kimball said the department still was investigating the incident and interviewing witnesses Tuesday.
Ferrell was being held Tuesday in lieu of $50,000 bond.
Investigation
Officials look into fire that destroyed Lawrence home
Investigators haven't determined the cause of a Monday night fire that destroyed the home of a Douglas County prosecutor.
Firefighters said Tuesday the home of Brenda and Jerry Little, 3409 W. 24th Place, suffered an estimated $125,000 in damage. No one was injured.
Jerry Little is an assistant in the Douglas County District Attorney's office. Brenda Little was a crew leader in Douglas County for the 2000 Census.
Maj. Rich Barr, Douglas County fire marshal, said the fire started on an exterior deck in back of the home. Fire investigators have eliminated electrical malfunction as a cause, but other possibilities still are being examined.
Jerry Little was not available for comment Tuesday. His boss, Douglas County Dist. Atty. Christine Kenney Tonkovich, said it would be "irresponsible" to speculate about a possible connection between Little's job and the fire.
Friends of the Little family are in the process of setting up an account at Firstar Bank to aid the family.
Crime
FBI joins investigation into motorcycle thefts
A motorcycle-theft ring originally thought to be centered in Lawrence and Topeka may extend into several states.
Lawrence Police Det. M.T. Brown said Tuesday that officers last week recovered 20 engines from Japanese motorcycles at a business in Bartlesville, Okla. More than 20 other motorcycles and parts have been found in Lawrence, Topeka, Wichita and Manhattan during the past month, he said.
The motorcycles were stolen in several states. The FBI and the National Insurance Crime Bureau have joined the investigation.
Brown said that in Lawrence, the thieves there are as many as 10 suspects, he said targeted university students, who generally parked motorcycles in apartment complex lots rather than garages.
Copyright 2018 The Lawrence Journal-World. All rights reserved. This material may not be published, broadcast, rewritten or redistributed. We strive to uphold our values for every story published.